Chiefs' Punter Tommy Townsend Put a Helmet on Top of His Helmet, Which is Actually a Comedy No-No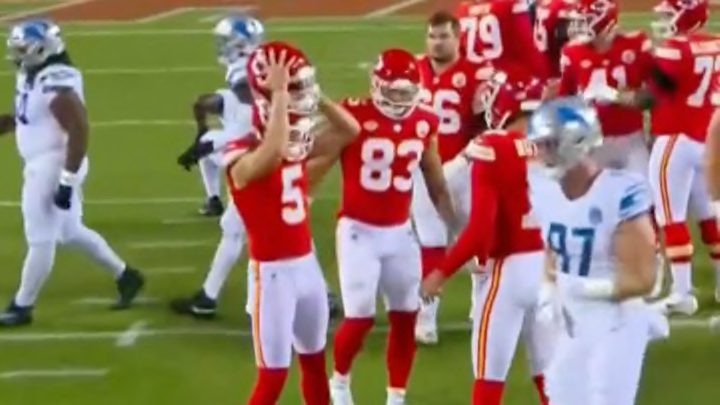 The Detroit Lions scored the first points of the 2023 NFL season, but the Kansas City Chiefs tied the game a short time later on a touchdown and extra point. Rashee Rice scored his first career touchdown to get the Chiefs back within one and then Harrison Butker evened the contest with a successful XP. During the attempt, guard Mike Caliendo had his helmet knocked off and teammate Tommy Townsend gave an important comedy lesson.
Townsend, Kansas City's punter, picked up the loose helmet and put it on top of his helmet, beautifully illustrating why you don't put a hat on a hat. He's already got a helmet. A second helmet doesn't do anything! Plus, Caliendo needs his helmet.
The ironic part is that this is actually pretty funny. Putting a helmet on top of a helmet is an amusing thing to do on a football field. It looks quite silly. And you've got to be thinking on your feet to attempt this on live television. Could Tommy Townsend change late night comedy forever? There's only one way to find out: let him host The Tonight Show.