The Detroit Lions Being Treated Like a Real Team Has Broken Some People
How dare the Detroit Lions play in a game they were scheduled in?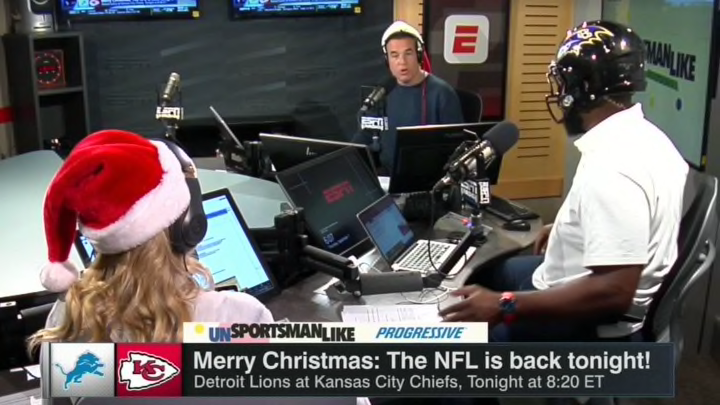 The Detroit Lions won eight of their final 10 games last year but that wasn't enough to overcome a disastrous 1-6 start. Even though they beat Green Bay on the road in Week 18, their reward was watching the Seattle Seahawks parlay the gifted final playoff spot into a quick exit. The weirdest offseason in franchise history followed as actual human beings with a national platform talked about the team from time to time, identifying them as legitimate contenders for the NFC North crown — something they've never won. Some even went so far as to suggest Dan Campbell's team could shock the world and win their second playoff game since 1957. Those thirstiest for content and attention said the words Super Bowl and Lions in the same sentence, something you never want to do into the mirror unless you want to summon a demonic Wayne Fontes.
In their infinite wisdom, the NFL tapped Detroit to play in the first game of the regular season against the Kansas City Chiefs. Vegas installed Patrick Mahomes as touchdown favorites but the line has come down a few points due to the uncertainty of Chris Jones and Travis Kelce, who may not be on the field.
Hearing the Lions discussed as a viable team and a side capable of competing tonight in the big kickoff game has simply been too much for a few pundits to stomach and a predictable backlash has taken form.
This morning Evan Cohen snapped on Unsportsmanlike Radio, one of ESPN's new daily offerings.
"I can't take it anymore," he said. "I'm already agitated. The Kansas City Chiefs are the Super Bowl champs. They have one of the greatest quarterbacks of all time. They have one of the greatest coaches of all time. Yes, they are down their tight end maybe. They are down their defensive tackle. We're talking about Patrick Mahomes and everyone already is doubting this guy. Are you freaking kidding me?"
It should be noted that Kansas City is still favored. And that no Kelce would mean a significant reduction in Hall of Fame talent to target. I've been online pretty much without break this entire week and haven't seen a person doubting Patrick Mahomes. Even Nick Wright would have a hard time building a case that no one believes in him.
Then Cohen wondered how the NFL schedule makers could do this to him and the public.
"The Kansas City Chiefs are going to kick the Lions' butts. It's going to be a 10-plus point victory tonight. I don't understand this ... This Lions' hype, why are they playing tonight? Why are they even playing? Why do we put the Detroit Lions on Opening Night?"
This is a bold new twist on the classic bitching and moaning about the Lions playing every Thanksgiving — just because they are the ones who invented playing on Thanksgiving during the FDR administration.
There's a simple answer, of course. They are playing tonight because the NFL told them to play tonight. The Super Bowl champion gets the standalone home game and the Lions were selected as the most intriguing guest over the Chiefs' other visitors (Bears, Broncos, Chargers, Dolphins, Eagles, Packers, Bills, Raiders, and Bengals).
Tonight's matchup accounts for one of the 272 regular-season games. There are at least three primetime games every week and plenty of stand-alone offerings either on holidays, late Saturdays, or during the late window on Sundays. All of this to say: it's going to be okay. Watching the Lions lose by 14 points — if that is in fact what happens — won't hurt anyone.
It seems crazy to wait almost eight months between meaningful professional football and then preemptively complain about one of the teams involved. Perhaps Cohen will be vindicated and the Chiefs boatrace a defense that still can't stop anyone. But what if, gulp, it's a good game?
I guess if we've learned anything, it's that occassionally hearing about the Detroit Lions and having them treated as a viable franchise and not an accidental Washington Generals outfit once every 40 years is just too much for more people than one would have ever thought.