Chiefs and Eagles Both Got Away With Holding on Their First Quarter Touchdowns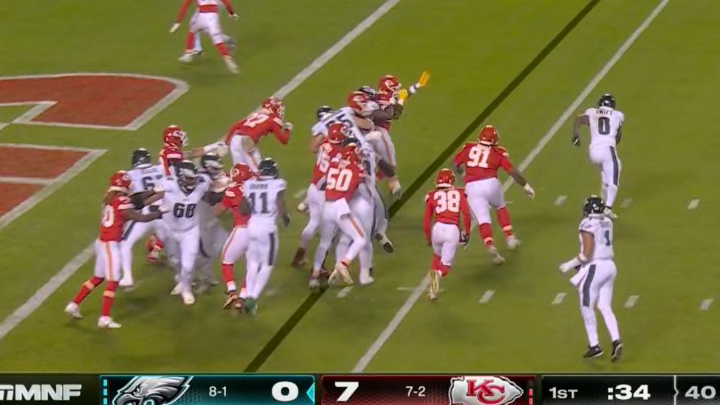 The Kansas City Chiefs hosted the Philadelphia Eagles on Monday Night Football in Week 11 in a rematch of Super Bowl LVII and more importantly, what was a rare primetime NFL matchup featuring two teams that are actually good. The game got off to a slow start in the rain, but both teams went on long drives to make it 7-7 by the time the first quarter was over. And to do it, both teams appear to get away with holding when they scored their touchdowns.
The Chiefs got on the board first with Patrick Mahomes finding Justin Watson all alone in the back of the end zone to cap a 10-play, 80-yard drive. Mahomes moved up into the pocket and threw a jump pass and it was pretty cool. Except if you look closely, left tackle Donovan Smith may have had a piece of Eagles defensive end Josh Sweat as Mahomes escaped.
Typical contact that happens on every play? Depends on who you're rooting for.
To keep things fair officials then ignore holding by Philly wide receiver Olamide Zaccheaus when D'Andre Swift scored a few minutes later to answer. Upon viewing the replay, Troy Aikman pointed out he may have gotten away with one and then rules analyst joined the broadcast to confirm that there should have been a penalty called and the touchdown should have been taken off the board.
And yet it was not. And now there appears to be a decent football game happening because of it.