Latest Mlb Leads
What Great Timing for the Cubs to Ask Chicago for Approval to Build a Sportsbook at Wrigley Field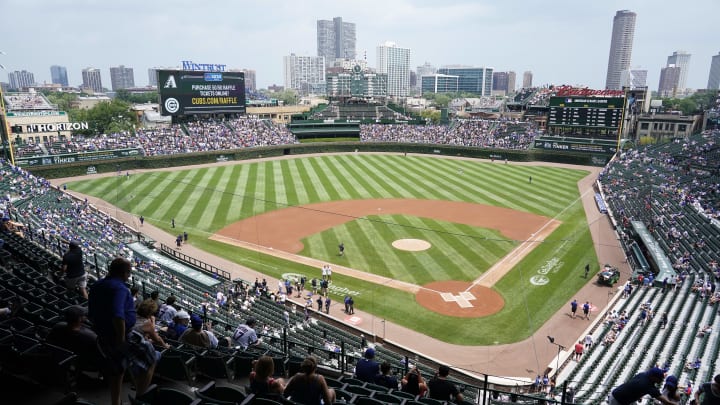 David Banks/Getty Images
Hot on the heels of sending nearly all of their most productive and beloved players out of town because there was simply no way to pay them, the Chicago Cubs will unveil plans for a two-story addition to Wrigley Field which would house one of the first betting operations at a major U.S. pro sports venue. From Crain's Chicago Business:
The team is slated to go before the Commission on Chicago Landmarks today to present its plans for a 22,350-square-foot structure that would be developed along the southeast corner of the stadium at Sheffield Avenue and Addison Street, team plans show.
It's a key step toward building the future DraftKings Sportsbook at Wrigley Field—part of a sponsorship deal the team struck last year with Boston-based DraftKings—and stands to make gambling an integral part of game day at the Friendly Confines.
But there are significant hurdles to clear: In addition to winning approval from the landmarks panel, the team needs the City Council to sign off not only on the development itself but also pass an ordinance that would allow sports betting inside the city's major stadiums.
It's often said but this is what late-stage capitalism looks like. Over the past 10 years, the Cubs have taken one of the best venues in all of sports and tried their very best to go full Jurassic Park gift shop on it, slapping together whatever can be maximally monetized while erasing the unique charm.
Securing the necessary sign-offs will not be a cakewalk and any delay will impact the stated goal of completing the project by the end of 2022. The construction is forecasted to take a year. If completed, Wrigleyville will look even more built-up and less special. On the other hand, assorted bros will be able to walk into a physical structure and bet on baseball and other sports, even if they don't have a ticket to the ballgame. This is apparently progress.
Perhaps there's no way to stop the wheels already in motion. Given enough time and sign off, surely ownership can smooth over all of the ballpark's rough edges so it looks like every other modern facility. Wouldn't bet against it.