Chet Holmgren Fouled Out of Gonzaga's Sweet 16 Loss Thanks to Two Horrendous Calls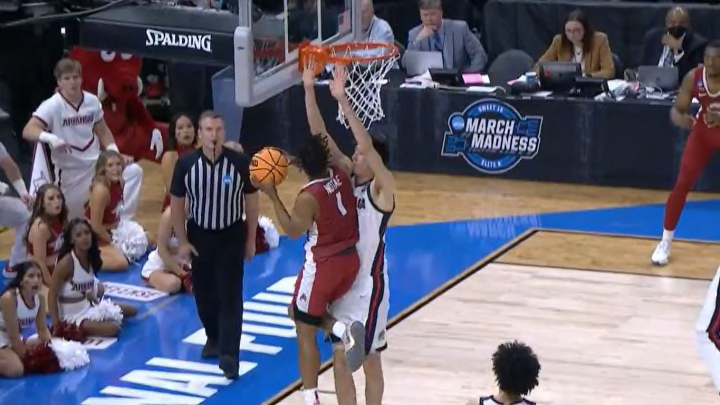 Chet Holmgren called for a foul against Arkansas guard JD Notae /
Gonzaga's Chet Holmgren is one of the best players in college basketball and the likely top pick in the 2022 NBA Draft, so naturally fans want to watch him play during the NCAA Tournament. During the Bulldogs' Sweet 16 loss Arkansas Thursday night, the officials had other ideas.
Holmgren only played 23 minutes of the game thanks to foul trouble. He eventually fouled out and his fourth and fifth fouls came on absolutely terrible calls.
Here's Holmgren's fourth foul where his offense seemed to be playing solid defense:
And here's his fifth, where he appeared to go straight up in the air against a driver:
I'm not sure what he did wrong on either of those plays. They were both 50-50 calls at best, and both went against the guy many people were tuning in to see.
Yes, it should take a bit more to foul a star like that out. A fifth foul should almost have to be a no-doubter. The fourth and fifth were terrible calls and the officials should be ashamed they made them.
Top-seeded Gonzaga fell to the Razorbacks 74-68 in yet another tournament disappointment for the Bulldogs.