Charles Barkley on Russell Westbrook: 'If I Had a Body Like That I'd Walk Around Naked'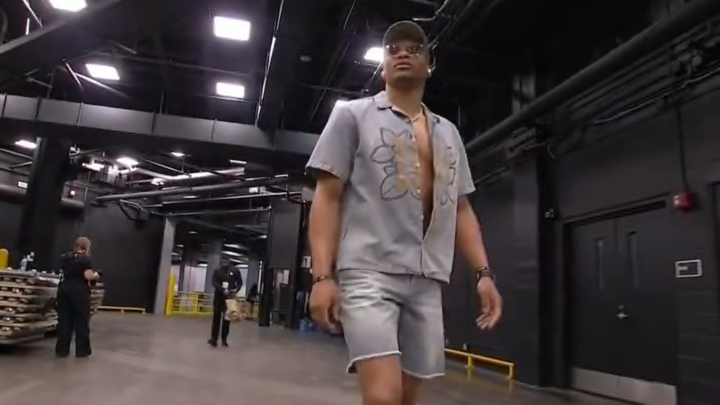 Russell Westbrook /
Russell Westbrook arrived to the Los Angeles Clippers-Phoenix Suns grudge match last night wearing one of his patented insane-looking pregame outfits that probably costs more than everything you have in your own closet. Tuesday evening's offering consisted of denim shorts and a shirt of a similar-looking material with a flower embroidered on the front. Westbrook's twist on the fit was to only button the very bottom button of the shirt, splitting the flower down the middle.
It was another eye-grabbing ensemble and the subject of some discussion amongst the Inside The NBA Crew. Specifically they were interested in the number of buttons buttoned by Westbrook and Charles Barkley gave a very blunt evaluation of the situation from where he's' standing.
"If I had a body like that, I'd walk around naked."
At this point that's the last boundary Westbrook has left to push in the fashion realm so let's not give him any ideas.
Despite the quality of his clothes Westbrook was unable to stave off elimination and the Suns defeated the Clippers to finish off the 4-1 series victory. Thus, that is the last Westbrook outfit we'll see this year. A fitting send-off from Chuck.