Chargers First Home Game In Los Angeles As Embarrassing As It Gets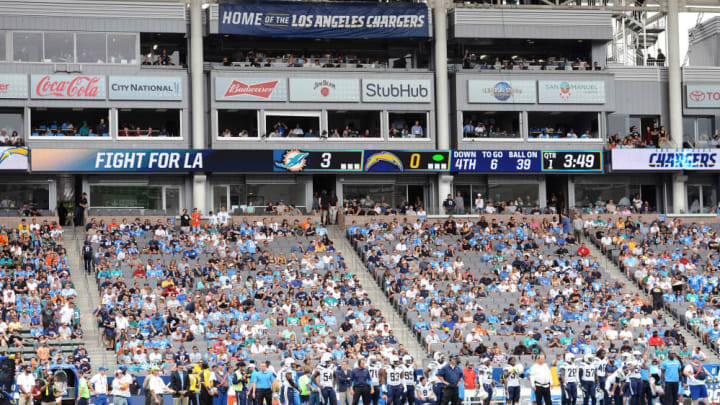 How many ways can a sports franchise be embarrassed in one day? I don't know, but the Los Angeles Chargers damn sure tried to answer that question on Sunday. One after the other, embarrassments kept coming for Dean Spanos and his relocated franchise in their first home game in Los Angeles.
First, there was the billboard. As you may have heard, angry San Diegan and former Chargers fan Joseph MacRae raised enough money to put up a billboard just down the road from the team's new home at StubHub Center. So fans attending the game and passing that sign saw one of the five following images ripping Spanos and the NFL rotated throughout the day:
MacRae also paid to have a plane fly over tailing a banner ripping Spanos:
"There's a plane flying over the first Chargers game in LA calling Dean Spanos the worst owner in sports pic.twitter.com/Uao8t2pbnu — Mike Tunison (@xmasape) September 17, 2017"
When I asked MacRae what inspired him to raise the money, he had the following to say:
""After hearing John (Spanos) talking sh*t (about San Diego) and having to deal with this whole relocation experience for the past three years got to me. The fact that the NFL sent Dean (Spanos) back to San Diego with an extra $100 million to get a deal done actually gave me hope. "I really did this though because I know for a fact that Prop C (the team's failed stadium ballot initiative) was just smoke and mirrors for them to use an excuse to leave to LA. They knew easily about three/four years ago that they were leaving. Prop C only allowed 345,000 people to vote on it while 3.3 million people live in SD. The most die-hard Chargers fans come from southeast and North County. Places like Chula Vista, National City, Poway, Fallbrook and Oceanside didn't get a chance to vote. "If Dean had a (soul) he would have never left.""
As a San Diego resident, I'd bet a vast majority of San Diego residents agree with everything MacRae said.
Want some more embarrassments? Because we've got them.
The following was in the Chargers game-day magazine on Sunday. Read closely:
Yes, that's the bio for Michael A. Spanos, Dean's brother. Someone clearly forgot to update it from last season.
How about the crowd? The StubHub Center holds around 27,000 for football. The Chargers failed to sell the game out, as the announced attendance was 25,381, which is the number of tickets "distributed" not the number of people through the turnstiles. The crowd shots from the game were embarrassing:
Based on reports on the ground, roughly 50 percent of the crowd were there to cheer on the visiting Miami Dolphins.
So in a city and surrounding area with 18.1 million people, the Chargers couldn't find 27,000 of their own fans to fill a soccer stadium. Hilarious.
And just to pound the point home, enjoy this coup de grâce tweet:
Another embarrassment? Something that will happen all season: an official referred to them as "San Diego."
Oh, and how about this. They showed Dean Spanos on the video board. Yes, the man who brought the Chargers to their new city and gave the fans in attendance the opportunity to see the team play and "Fight for LA," was shown for his fans. How was he received by his new "home" crowd? As expected:
Then there was the actual game. The Chargers lost 19-17 when their rookie kicker Younghoe Koo missed a 44-yard field goal wide right. Unfortunately, someone didn't inform the team's cannon brigade, who fired off a shot anyway:
Philip Rivers and the rest of the Chargers definitely noticed the heavy amount of Dolphins fans in attendance:
As if those indignities weren't enough, after the game, veteran Los Angeles sports columnist Bill Plaschke penned a piece with the following title: "Chargers still don't belong in LA."
The key paragraph of the piece for me was this:
"The Dolphins won the game 19-17 while the Chargers suffered yet another loss in a string of organizational defeats that has followed them since they made the unpopular decision eight months ago to leave their loyal San Diego fans and move to a town that neither wanted nor needed them."
Bill Plaschke and I agree on something? Man, the Spanos family truly has a gift for uniting people in opposition to it.
The Chargers don't belong in Los Angeles. They are an embarrassment to the NFL and these issues will continue to pop up every week. It's a joke and the rest of the league is starting to catch on to what we've known for months. Moving a second NFL franchise to Los Angeles was a horrible decision.