Chargers, Cowboys Get Into Fight During Pregame Warmups Ahead of 'Monday Night Football'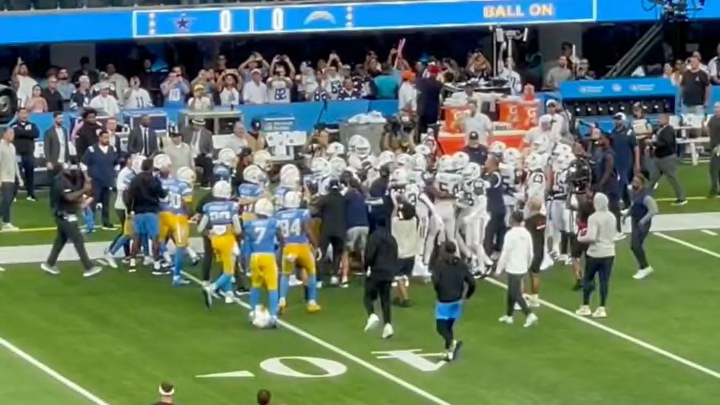 The Dallas Cowboys and Los Angeles Chargers met for Monday Night Football in Week 6. The Cowboys came into the game having lost two of their last three games while the Chargers have won their last two. While the game was in Los Angeles, the stadium was full of Cowboys fans, but if there were any Chargers fans in attendance, they must have felt tense. And that tension obviously spilled over onto the field before the game when the Cowboys and Chargers players got into a big fight during warmups.
Who knows what started it - no doubt someone disrespected someone or something - but it looked quite violet there in the eye of the storm. Facemasks were grabbed and yanked and pushed and while it doesn't look there were any proper punches thrown, some people definitely got hit in the heads.
Depending on how the game goes, this may be the end of the confrontation. Playing in different conferences there's no telling when these teams will meet again, and this certainly didn't feel like a potential Super Bowl matchup before this little kerfufle. So let's just hope everyone got it out of their systems and they have a nice clean game. First to 40 wins.