Are We Sure Danny Ainge Was Good?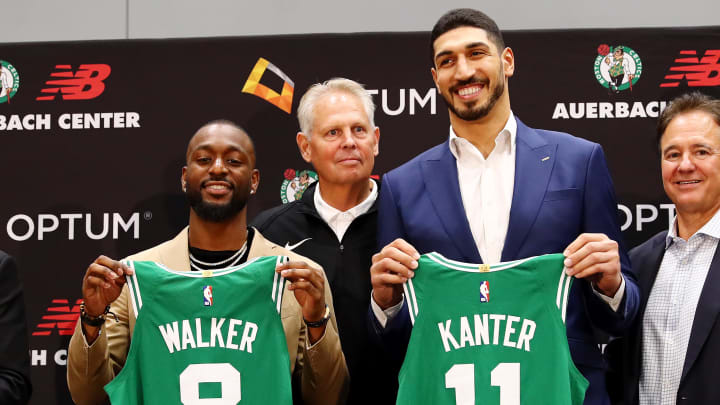 Danny Ainge, Kemba Walker and Enis Kanter. / Tim Bradbury/Getty Images
The Danny Ainge era has come to an end as the Boston Celtics longtime president has decided to step down and retire. Brad Stevens will ascend to the Boston front office in his place and try to pick up where Ainge left off - trying to get the Celtics back to the top of the Eastern Conference competing for a championship.
With that being the only real goal in the city of Boston, just how successful was Danny Ainge's front office run with the Celtics? The Ringer's Ryen Russillo tweeted that it was "much more successful than people want to admit," but was it?
Let's look at Ainge's resume. He returned to Boston in 2003. Things got off to a rocky start as he traded Antoine Walker and clashed with head coach Jim O'Brien to the point where he resigned in the middle of the season.
However, Ainge then hired Doc Rivers and led a successful tank that resulted in the Celtics acquiring Kevin Garnett and Ray Allen. Rivers won a title as the coach and has proven he's a competent NBA coach with stops in both Los Angeles and Philadelphia.
As things wound down with Rivers, Ainge again traded away stars, tanked and hired a coach in Stevens who would take the team to the playoffs in seven consecutive seasons. Overall, the team made the postseason in 15 of his 18 seasons as an executive in Boston. They won that title, made another NBA Finals and made it to the Eastern Conference Finals four more times.
The Celtics also traded a broken Isaiah Thomas for Kyrie Irving and signed prized free agents Al Horford, Gordon Hayward, and Kemba Walker. As Ainge exits, he leaves behind a budding superstar in Jayson Tatum and another star in Jaylen Brown.
That seems pretty good. How many NBA franchises wouldn't trade their last 18 years for the Celtics' last 18 years? Plus Tatum and Brown?
Only eight franchises, including the Celtics, have won a title since Danny Ainge was hired by Boston. Only 11 teams have won their conference. There are 19 teams that haven't even made it far enough to lose in the NBA Finals. If you go all the way back to 2000 you only add two teams that made it to the Finals. So in the 21st century, eight teams have won a title and 13 have won their conference.
More than half the league - 17 teams - have gone this entire century without even making the NBA Finals. Every one of those fanbases would probably be happy to trade in this fantasy scenario.
So, no, Danny Ainge didn't create another Boston Celtics dynasty, but he kept them competitive and relevant and in decent shape for the future if Brad Stevens can be a decent executive and keep Jayson Tatum happy.
And it's all right there on Basketball-Reference. One title, two Eastern Conference titles, two good coaching hires in two chances and a young superstar locked down through 2025. Could they have won more? Maybe, but with someone else in charge they probably would have been just as likely to win fewer games and titles. Just like the most of the teams in the NBA.