CBS Should Hope Final Masters Round Doesn't Have a Rain Delay or Need a Playoff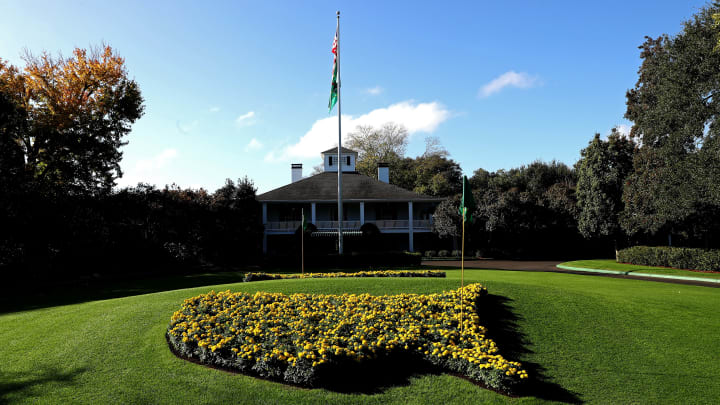 Augusta / Jamie Squire/Getty Images
The Masters kicked off today as the members of the PGA Tour embarked on the first of four rounds that will span the weekend. There are, of course, no fans in attendance, but the course looks nice. When it isn't raining, anyway. As you are probably aware, the Masters does not take place in the fall most years. It was moved to this weekend in November back from April because of the coronavirus pandemic.
This made for an interesting TV scheduling conflict that we'd never seen before and will more than likely never see again. CBS holds full broadcasting rights for The Masters. The network is also a primary broadcast rights holder of the NFL. The final round of The Masters will be broadcast on Sunday. That last round usually ends in the late afternoon. This year, that will come at the same time as the 1 p.m. ET slate of football games end. That will likely result in lower ratings all around as The Masters steals a small percentage of viewers from the NFL and the NFL steals a much larger percentage of viewers from The Masters. The NFL tried to fix this problem by moving a few games to the late afternoon, with five games coming at 1 p.m. and six coming after 4 p.m.
However, the final round of the golf tournament could extend past 4 p.m. ET in the case of a weather delay or a playoff hole. That would represent a problem for CBS, which is currently scheduled to broadcast a few of the 4 p.m. NFL games. According to Sports Business Journal, should the final round of The Masters run past 4 p.m. and conflict with CBS' NFL schedule, the final around would then move to ABC.
If a playoff hole is what pushed the final round back far enough that CBS had to stop broadcasting it, that would be the worst case scenario for CBS. A playoff hole at The Masters, the biggest tournament of the year, would be a ratings bonanza as far as it relates to golf. Sure, it pales in comparison to NFL ratings, but so does literally everything else. A rain delay would be irritating for CBS at the minimum and could be a loss if the final score ends up being close enough that viewers will flock to ABC.
These are all hypotheticals, of course. CBS could end up having their cake and eating it, too, if The Masters ends on time and viewers can roll right from the 18th to the CBS broadcast booth for whichever game their region is showing. That'll make for a good day in the CBS offices. But should the unexpected happen, ABC might be able to steal the highest ratings of the whole Masters. Which wouldn't be great. So CBS will simply hope for the best, while it is forced to prepare for the worst.