Jim Nantz Smoothly Covers For CBS Graphic Mistake Showing Sam Darnold as Brock Purdy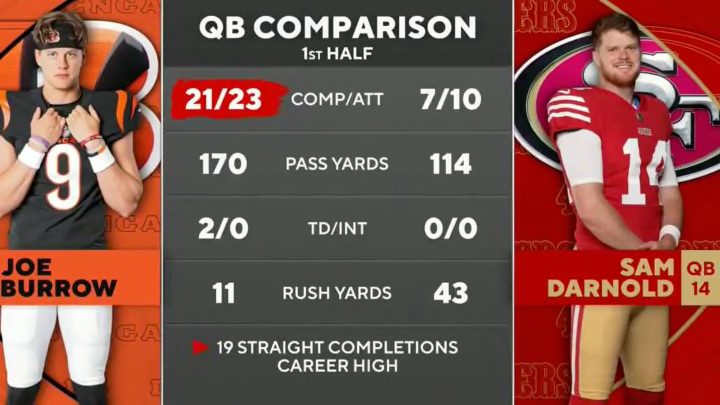 CBS Oopsie /
During the lead-up to Sunday's Cincinnati Bengals-San Francisco 49ers matchup there was some question as to whether or not Brock Purdy would be able to suit up. Purdy suffered a concussion during San Francisco's Monday night loss to the Minnesota Vikings and had to pass concussion protocol in the following six days in order to play. Even if he did pass it, the Niners might hold him out in order to be cautious.
Purdy obviously was able to go, but the uncertainty led many to prepare to see Sam Darnold in action for the first time as a 49er. Including, it seems, the CBS graphics department. As the broadcast team welcomed the viewers back for the second half of the Bengals-49ers game, a side-by-side comparison graphic between Joe Burrow and Brock Purdy appeared onscreen. The problem? They forgot to replace Sam Darnold with Purdy. So we saw all of Purdy's stats falsely attributed to Sam Darnold.
Fortunately CBS had the eternally-smooth Jim Nantz on the call and he recovered by telling the audience that Purdy had simply dressed up as Darnold for Halloween.
A pro's pro. That's decades of thinking on your feet right there. Nicely done by Nantz.