CBS and ESPN Are Absolutely Crushing Golf Broadcasts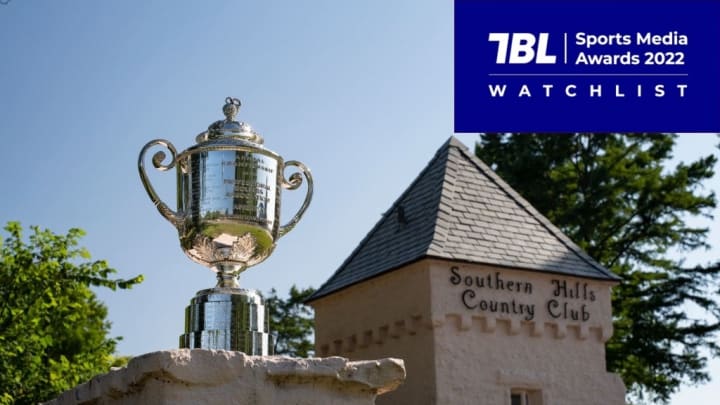 Golf is at once a slow burn and a dizzying sprint. What viewers see on their screens never feels rushed and harried. But that's only because tremendous skill and guile takes place behind the scenes, both in the production truck and in the television towers to synthesize, assess and disseminate the most relevant information and important shots.
CBS and ESPN have excelled in recent years at providing the most shots per minute and most insightful commentary. Their partnership to broadcast the Masters and PGA Championship has been fruitful and continues this week with in Southern Hills. Both networks held media availability to preview the upcoming fun in Tulsa. During his opening remarks Sean McManus, the chairman of CBS Sports, mentioned that he was thrilled with the job Sellers Shy has done in his two years as lead producer of golf coverage. I asked him what, in particular, Shy does so well.
"He has an amazing knack to tell the story of a golf tournament and so much of it is instantaneous decisions on what shots to show when, where to go at a particular time and to work with the announcers to not make it just shot, shot, shot but telling the story of how these shots affect other shots that have taken place or are taking place," McManus said. "Working with announcers and giving them hints and suggestions during the broadcast is something that you can't do too much and quite frankly can't do too little. You have to find the absolute right mix."
McManus continued, saying communication among the CBS team has been fantastic and the exchange of ideas has buoyed the entire product.
More Articles About Golf:
"Sellers has been very welcoming and solicitous when it comes to asking people for their input, which I think is great. When he's looking at that bank of monitors and working with our director Steve Milton and all of our announcers, he's calm and he's unflappable. Most people think golf is a slow sport and not difficult to cover. I've made the case many times that it's in many ways the most difficult sport to cover. You have 18 holes and anywhere from five to 15 golfers who can be contention, many of whom are hitting their shots at the same time. When that happens, you have to decide what you go to live, what you go to on tape and it takes a special mind to take all that technology and all that information and work with the director to put them in the proper order."
McManus stated that he thinks CBS' coverage is as good as it's ever been and it's tough to argue otherwise. ESPN is augmenting that early in tournaments with similarly excellent work. With so many choices to make and such a wide audience to serve, I asked their on-air team how they go about creating something that appeals to viewers watching their second major as well as those sourdoughs who are tuning in for their 82nd.
"That's such an interesting question because you're not going to do Golf for Dummies, right?" Scott Van Pelt said. "I think you know -- we know plenty about the golf fan. Social media, it can -- I always feel like it's a good way to take the temperature of the room but never presume that it speaks for your entire audience. But if you dumb it down to a degree -- and that's not an elegant way of putting it, but if you're like, this is a par-4. You need to make it into the hole in four shots or you're over par. You're not doing that because people will eye roll. But I do think that there is something about the young player -- and there are so many of them now -- that leaning into the idea that there might be a younger audience that's turning up to follow the younger players while treating the game with a certain amount of reverence and appreciation for the history of it. I feel like we really do that in this sport. Baseball does it a ton, and I feel like golf really does it. I feel like I always am conscious of both because I really do feel like both are out there. Over the course of all these hours, you can have little Easter eggs for everybody."
"I'm conscious of both of the spectrums too," Curtis Strange added. "Not too much inside baseball, but they want -- people want inside baseball. They want some good stuff about a player, just to get to know them a little better. I think we all have our personalities, and hopefully those personalities show that we're having fun to the viewer. I think the story lines are the biggest part of that equation because, if Scottie Scheffler wins the Masters by six or seven, it's not exciting, but it got exciting, didn't it? So the story lines, how close the tournament is, who's involved is a huge part of the excitement."
"I think we're really fortunate with the crew that we work with," said Andy North. "We've got an unbelievable producer (Mike McQuade) that really lets each one of us do what we think we can do. He gives us a lot of freedom. It's not overproduced. I think, because of that, it gives each one of us opportunities to service both sides of the equation during the course of the event, and I think that's really important."
Your mileage may vary but to me, there is no sport being televised right now that offers a wider spectrum of intriguing stories. The secret of golf is that it always delivers. It has no off weeks. CBS and ESPN have honed their storytelling to near perfection and there's no reason to think that will change this week as yet another major provided the backdrop for history. It's past time someone gave this collaboration its due and hopefully, more people will both experience and appreciate it.