Carson Wentz Could Change Everything
Carson Wentz wore gear from every team he's played for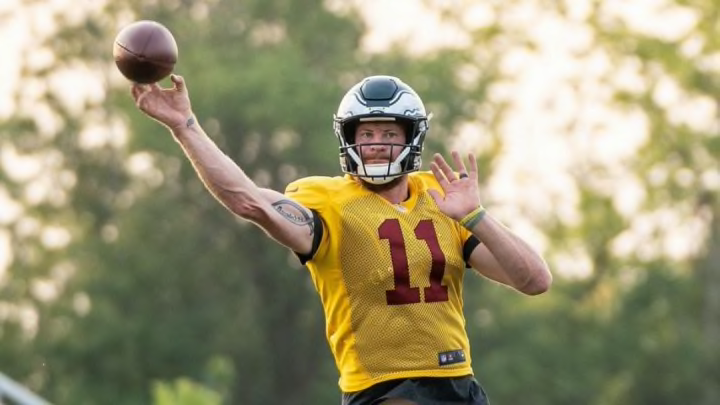 Carson Wentz is in search of an NFL team and shouldn't have too much finding one, even if he is injury-prone and has seen his ceiling get lower and lower with time. Competent quarterback play is still tough to find and teams could do much worse when it comes to having a backup ready to go should their number be called. In an attempt to gin up some interest, Wentz posted some tried-and-true workout content to Instagram while sporting a bold look that included practice gear from all of his previous jobs.
The aggressive look featured a helmet from the Philadelphia Eagles, shorts from the Indianapolis Colts, and a jersey from the Washington Commanders.
Predictably, a lot of people had jokes and snarks about this because Wentz is an easy punchline. But I am here to tell you that there's a method to the madness and it was a savvy move. Subliminally reminding potential suitors that many other franchises have found him appealing will help his cause. Or at the very least, it won't hurt it. It's the same principle the drives our creepiest single dudes to wear a fake wedding ring out to the bars.
Ask yourself this: would a person not qualified to be an NFL quarterback have all these gear? Absolutely not.
More players should do this. Especially ones who have a more prolific journeyman career. Imagine Josh Johnson out there like Joey Tribbiani wearing an impossible amount of clothing and 14 different franchise logos. Or Adrian Peterson channeling a NASCAR driver with precious little unused branding space.
We hope this trend catches on after Wentz inevitably catches on. It's like a living Immaculate Grid and people seem to really enjoy that.