Philadelphia Flyers' General Manager's Son Accused of Shoving a Wheelchair Down Flight of Stairs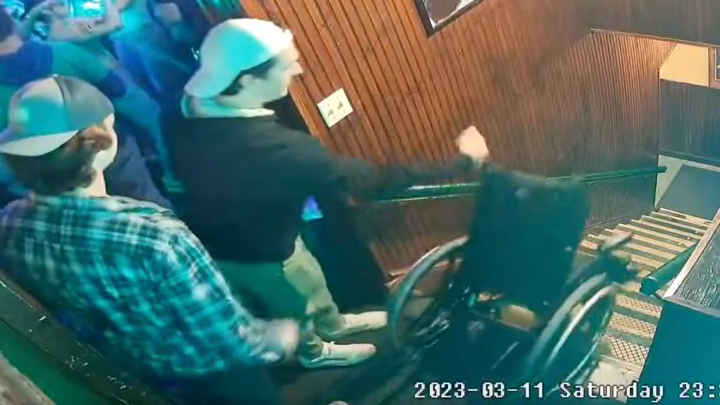 Carson Briere, a junior forward on the Mercyhurst University hockey team and the son of the Philadelphia Flyers' general manager Daniel Briere, is being accused of pushing a wheelchair down a flight of stairs at a bar on Saturday night. Security footage shows three young men come up a flight of stairs and stop at the top to talk. One person walks away, leaving two guys in backwards hats inspecting the wheelchair. The one in the white hat - allegedly Briere -sits in it for a moment before both people shove it down the stairs.
The young woman who owns the chair had been carried down the stairs to use the bathroom. Mercyhurst released a statement about the incident, but did so in a reply to the video in question.
Briere was previously dismissed from the Arizona State hockey team as a redshirt freshman for a violation of team rules before transferring to Mercyhurst. Via College Hockey News:
"I was just going out; I wasn't taking hockey seriously. It wasn't anything bad, it was just not being committed to hockey, I was more committed to having fun at school," said Briere. "Too much partying, that's probably the best way to put it."
On Tuesday The Athletic published a piece about Daniel Briere's first trip to the NHL GM meetings. Coincidentally, he avoided the media on Monday.
After the first day of the meetings Monday, Briere politely asked reporters if they'd mind if he spoke Tuesday because he was still trying to get his bearings and had a series of afternoon phone calls.

Plus, he had a pickleball match lined up with Lightning GM Julien BriseBois, Blue Jackets GM Jarmo Kekalainen and NHL senior vice president of player safety George Parros, Briere's former Canadiens linemate.
UPDATE: Briere has been banned from the bar.