Carlos Rodon Blows Kisses to Yankees Fans Who Heckled Him
Rodon's Yankees tenure has not gone well.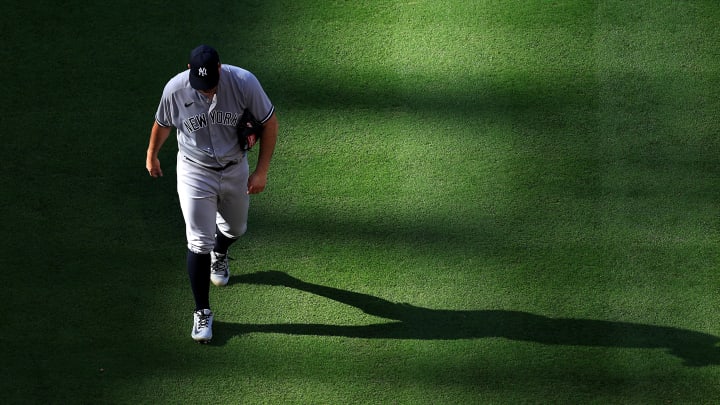 New York Yankees v Los Angeles Angels / Sean M. Haffey/GettyImages
Carlos Rodon got smacked around in his third start as a member of the New York Yankees on Wednesday, and that was just the start of his troubles. The lefty, who has spent most of the season on the injured list, was lit up by the Los Angeles Angels and Yankees fans in attendance weren't pleased. As he walked to the dugout after the second inning, Rodon blew a kiss at a group of Yankees fans who were heckling him. I'm sure that went over well.
Rodon gave up a two-run home run to Taylor Ward in the first inning then surrendered a two-run bomb to Luis Rengifo in the bottom of the second, putting the Yankees in a 4-0 hole. Video of Rengifo's blast is below:
That ball was crushed. Absolutely smoked.
Rodon escaped the inning without further incident. As he walked into the dugout, the Yankees fans in attendance were letting him hear about how poorly he was pitching. Here's how he reacted:
Maybe not the best reaction to that situation. Just a gut feeling. The Yankees wpund up losing the game 7-3, allowing the Angels to complete a sweep.
Rodon wound up allowing six runs on four hits in 4.1 innings, with five walks and three strikeouts. On the season he's now 0-3 with a 7.36 ERA and a 1.43 WHIP in three starts. Now he's getting into it with his team's fans.
Remember, this is a guy the Yankees gave a six-year, $162 million contract to in the offseason. They took a massive gamble on him when no other MLB teams were willing to. Rodon had only topped 140 innings twice in his nine-year career. True to form, he's missed most of his first season in pinstripes due to back and elbow injuries.
It's not surprising Yankees fans are so angry. His reaction won't do anything to calm them down.