ESPN Showed Cameron Dicker Spraying Himself With Water in Slow Motion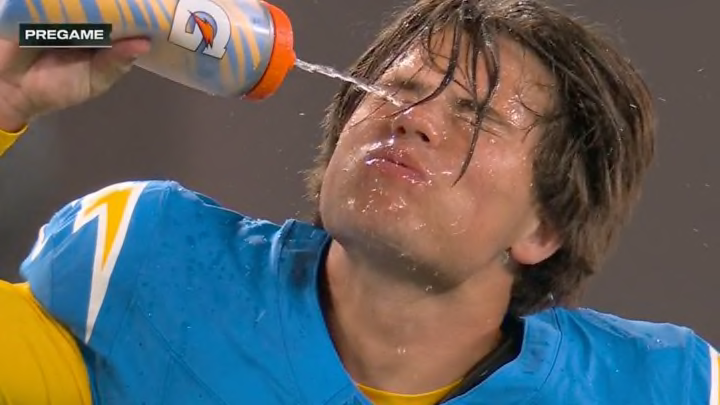 Cameron Dicker kicked a 55-yard field goal on the final play of the first half during Week 9's Monday Night Football game between the Los Angeles Chargers and New York Jets. Just before Dicker put the Chargers up 17-3 ESPN made sure to show a slow-mo video of the kicker spraying himself in the face and hair with a water bottle before the game.
Just thirteen glorious seconds of a kicker getting wet on ABC, ESPN and ESPN2. Why? Who knows. You can make almost anything look amazing by making it slow motion. Even a kicker.
Of course, Cameron Dicker is kind of amazing. He's now made 33 of his 35 career field goal attempts. And he's never missed an extra point. And he's made four out of five attempts from 50+ yards this season. So if you have the opportunity to feature him spraying himself in the face with water in slow motion on your broadcast, you've got to do it.
It was a big night for hair on Monday Night Football as Justin Herbert was a starting quarterback and Trevor Lawrence appeared on the ManningCast. That's where you can see the nightmare fuel photoshop of Lawrence with Peyton Manning's haircut.