Latest NFL Leads
Even With Incentives, Any Team Would Be Insane to Give Cam Newton $40 Million This Offseason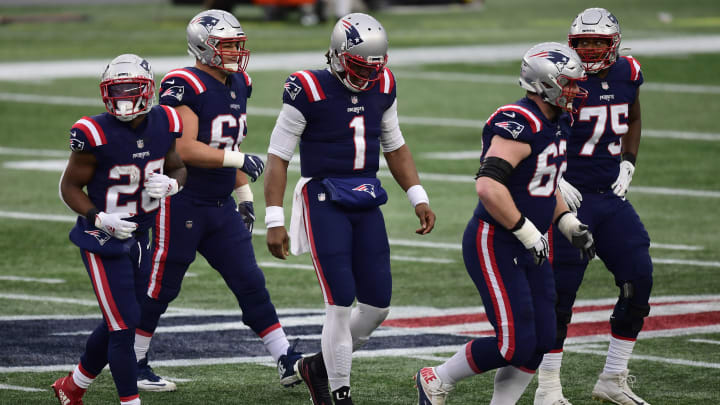 Cam Newton / Billie Weiss/Getty Images
The Cam Newton revenge tour was not quite the epic that everyone anticipated. Amidst the carousel of quarterbacks last offseason, Newton was left forgotten as he rehabbed from injuries which stole most of the previous two seasons from him. He ultimately signed a deal only slightly above the veteran minimum with the New England Patriots. Now that the season is done, it turns out anyone who doubted Newton's ability to play at an above-average level had a point; the Patriots went 7-9 with the former MVP at the helm and likely won't be bringing him back next year.
Newton will hit free agency for the second time in as many years. There are no more injury concerns, but his play on the year was nowhere near the quality we've all come to expect. Despite that, Adam Schefter went on the Greg Hill Show this morning and took a gander at how attractive Newton might be to potential suitors this offseason, suggesting he might receive a contract worth up to $50 million, with the most likely culprit being the Football Team.
It is important to note (seeing as Schefter complained about the difference earlier in the show) that this is not a report, just an educated guess.
Nonetheless, I have absolutely no idea how any organization could justify paying this version of Newton $15 million, much less $40 or $50 million. He finished with more interceptions (10) than touchdowns (8) this year. Dak Prescott threw more touchdown passes and he didn't play past Week 5. Newton failed to eclipse more than 100 yards passing on four occasions this year. Even Sam Darnold, in the midst of a season from hell, threw for more than 100 yards in each of his starts in 2020. Newton only managed more than 200 yards through the air three times this season, and two of those instances came against the early-season Seahawks secondary and the Jets.
Sure, the Patriots' receiving corps left a lot to be desired this year. But they're only one half of the equation. Newton struggled to find the open man, and when he did, he showed a stunning inconsistency with his accuracy. According to Pro Football Reference, 20 percent of Newton's passes this year can be categorized as "bad throws." That's higher than both Daniel Jones and Mitchell Trubisky. It was even worse to watch live, when there were a handful of occasions each game that Newton would simply gun the football into the turf several yards in front of an open receiver.
New England utilized Newton as a runner as often as they felt comfortable with given his injury history. He finished the season with 592 yards on the ground and 12 touchdowns. He's still pretty good in that area. That's undeniable. But there are also diminishing returns because of the myriad ailments he's suffered over the last four years. This is not MVP Cam Newton anymore. Run with him at your own risk. And even when it's working, Newton is too inaccurate to make for an efficient play-action game.
Now, such a contract would not be anywhere near fully guaranteed. Not even the most optimistic NFL front office person could talk his or herself into something like that. But even with heavy incentives layering the deal, what about the numbers above suggests Newton can pilot a team to winning football games? He did not get better as the season went along. The Patriots won three of their last seven games in 2020. His final line against the Jets, who many thought would go winless, was decent; he threw for 242 yards and three touchdowns, by far his best outing since Week 2 against Seattle. But in the other two wins, Newton threw for 153 yards combined with one touchdown and two picks. On his best days, Newton will win the game for his team, but those are few and far between. Most days his team will win in spite of his shortcomings, and that is not what you want out of a starter regardless of how incentivized the contract.
While we're on it, I also somewhat doubt Washington would bring Newton aboard. They had a chance this offseason with Ron Rivera making all the personnel decisions and instead chose to sign his backup, Kyle Allen. The QB situation there is dire after Dwayne Haskins' release, sure, but they had every opportunity to sign him last spring and summer and passed. It's not hard to imagine they'll do the same thing here.
Newton has gotten rave reviews for his attitude and leadership while in New England, and legitimate praise is hard to come by when working for Bill Belichick. That counts for something. But his play simply does not justify a yearly salary comparable to Philip Rivers or Tom Brady or even Derek Carr or Alex Smith.
It's sad because Newton was an absolute pleasure to watch in his heyday. But he's not a starting quarterback anymore. We knew it a month ago and nothing has changed since. Any team who gives him money like Schefter thinks they might is making a gigantic mistake.