Caleb Williams Wept In His Mother's Arms After USC Lost to Washington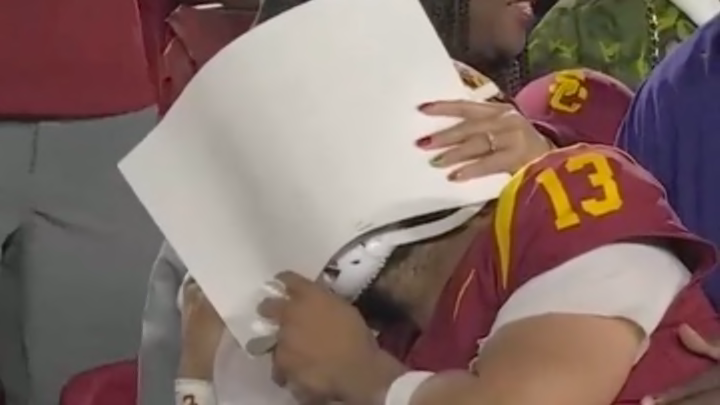 Michael Penix and Caleb Williams led their respective teams up and down the field over and over again Saturday night in Los Angeles as Washington outscored USC, 52-42, to keep their College Football Playoff hopes very much alive. It was the third blemish for Caleb Williams and the Trojans, who entered the year with high expectations and, apparently, without the semblance of a defense to pair with their Heisman Trophy-winning quarterback.
The disappointment of a season growing increasingly lost hit Williams hard as time expired last night. After the final whistle he climbed into the stands and cried in his mother's arms.
Williams was awesome, going 27-for-35 for 312 yards, three touchdown passes and a rushing touchdown in the game, while busting off several highlight-reel scrambles. He's still the overwhelming favorite to be the first quarterback off the board in the NFL Draft — and likely the top player overall.
It appears my colleague Ryan Phillips defended him against any tears-related flack being dished out as everyone got their last jokes off before the time change.
And while this may be good and valid points, I feel like I've observed the NFL Draft Industrial Complex long enough to understand that this emotional vignette, taken with some other less-than-great things from the year, are most definitely going to be a thing. Williams' leadership and overall vibe are going to be questioned — especially should he decide to hang the cleats up now that the Trojans are completely out of it. It may not be fair, but I would legitimately be shocked if we don't hear about "the baggage he brings" or his "unique personality" as mock drafters try to find a new spin on their content.