Virginia Tech's Caleb Farley NFL Draft Profile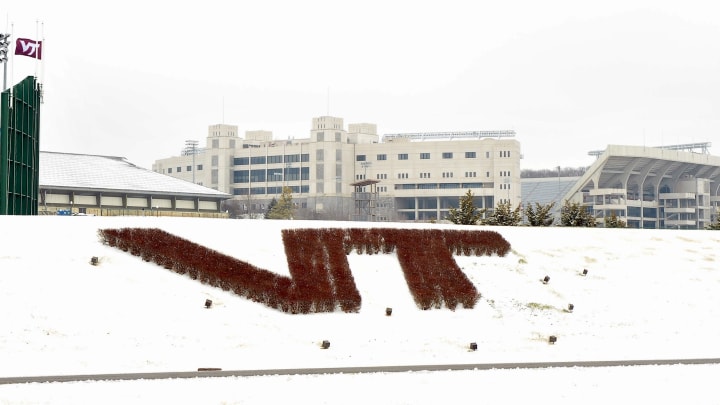 Virginia Tech Campus / Lance King/Getty Images
Caleb Farley became the first college football player to opt out of the 2020 season last week due to concerns about the safety and health aspects of holding a football season in the midst of a global pandemic. He will not be the last either. But for now, Farley will begin training for the 2021 NFL Draft. He's a potential first-round pick who could have been taken somewhere in the latter half of the first or the second round had he declared this past offseason.
Here's everything to know about Farley's game.
Caleb Farley NFL Draft
Farley made a big jump in his play during his 2019 season. While he played in three less games, he notched 12 passes defended and four picks for Virginia Tech. He built off a solid campaign in 2018, where he had two picks and seven passes defended. That isn't remarkable by any means, but it's more impressive when you consider Farley switched from wideout to cornerback before that season.
At 6-foot-2 and 207 pounds, Farley has quality size for a cornerback but doesn't give up much in terms of straight-line speed. He's a quality athlete who showed he could hang with any kind of receiver while a Hokie. He has long arms to go with his athletic talents, which makes him an ideal cornerback prospect in terms of physical profile.
What's exciting about Farley is that he played this well despite the limited experience at the position. He struggled in zone coverage with some regularity and got beat when going up against receivers with refined technical skills. His athleticism bails him out more often than not, but that will obviously be different at the next level. If he can put together his physical tools with better technique, he could become an excellent cornerback.
Overall, Farley is athletic enough to come in and make an impact from Day 1 with plenty of room to improve. His struggles in zone will fade in time, and his lack of impact in the run game is usually more effort than it is anything else. He could be an exciting player in short order as a pro.
Caleb Farley Stats
In two years as a corner at VT, Farley put up a total of 56 tackles with 19 passes defended and six interceptions to go along with one touchdown.
Caleb Farley Twitter