C.B. Bucknor Is Still an Embarrassment as an Umpire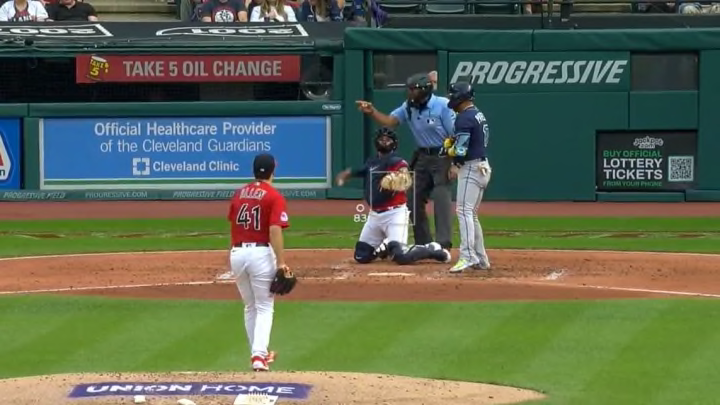 We've been over this before, but C.B. Bucknor is among the worst umpires working in Major League Baseball. In fact, we had him No. 2 in our ranking of the worst MLB umps. On Saturday, he verified our ranking and made a mockery of the game.
Bucknor was working behind the plate as the Cleveland Guardians faced the Tampa Bay Rays. He made a number of awful calls, including one involving the pitch clock.
With two outs in the bottom of the fifth inning, Guardians second baseman Andres Gimenez was at the plate, facing Rays pitcher Zack Littell. With an 0-2 count, Gimenez used his timeout. The problem? Bucknor forgot to reset the pitch clock. As Gimenez stepped back in the clock was already running out and Bucknor ruled that Littell wasn't ready to go and issued an automatic ball for a pitch clock violation. Rays manager Kevin Cash raced from the dugout to explain what happened to the veteran umpire and wound up getting ejected for his trouble.
Bucknor could have asked for help from his fellow umpires, and fixed the call, but that would have meant admitting he was wrong and that was never going to happen.
In the bottom of the sixth inning, Bo Naylor was at the plate on a 2-1 count. Jake Diekman threw a fastball on the outer half and Bucknor rung Naylor up and yelled "strike three." Obviously, it was only the second strike.
As the second video in the sequence shows, Bucknor was also awful at ball-strike calls on the night, calling strikes on seven pitches that missed by two or more inches. That's horrendous.
Here's his full scorecard for the day. It's not pretty.
The analysis says he favored Cleveland by +1.26 runs. Guess what? The Guardians won 7-6 in extra innings.
Major League Baseball really needs to reassess how it handles umpires because this kind of stuff is happening consistently and it's completely unacceptable.