Buster Olney: Yankees 'Completely Surrendered' to Aaron Judge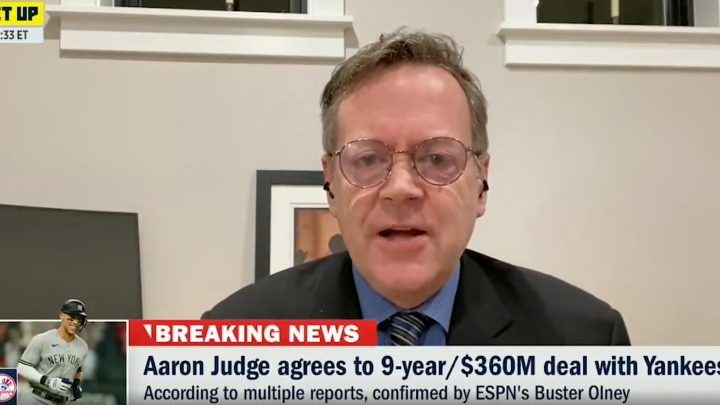 Buster Olney /
The New York Yankees got their man this morning as news broke that Aaron Judge had agreed to a nine-year, $360 million deal to stay in pinstripes. It's a massive haul for the most sought-after free agent slugger on the market. It's also nearly $150 million more than what the Yankees offered Judge back in April and will probably forever be the best possible example of what can happen when a player bets on himself.
Now the debate begins in regards to how good of a deal it really is for the Yankees. Judge did break the AL record for most home runs in a season and is unparalleled right now in his ability to hit dingers. But he's already 30 years-old, has not been the healthiest player over the last few seasons, and will be making $40 million in his late 30s. For the next decade there will be those who believe the Yankees needed to keep Judge at all costs and those who think New York capitulated to the pressure and overpaid for the slugger's talents.
It sure sounds like Buster Olney falls in the latter camp, as he described the Yankees as "surrendering" to Judge in both his tweet confirming the breaking news and a Get Up hit.
Pretty weird verbiage here, actually! Olney makes it sounds like the franchise was being held hostage and had to kowtow to demands. As if the Yankees, valued at $6 billion by Forbes, could be held hostage in a financial sense by anyone. It's more like they were forced to pony up market value for one of the best players in the league. This is not a scenario where the team is the little guy who got screwed by the big bad player trying to squeeze every last dollar out of the situation. As much as I'm sure we'd all like to feel bad for the Steinbrenner clan.
Is $360 million a lot of money? Yes it is. Will Judge be worth his $40 million salary when he is 39 years-old? Probably not. Were the Yankees ever going to do anything other than pay Judge his money? No. No, they were not. He's the best hitter in the league and the Yankees have more money than anybody. This was always the end point and it didn't require the poor old Yankees to "surrender" anything.
Just an odd lens to look at this through.