The Buffalo Bills Are AFC East Favorites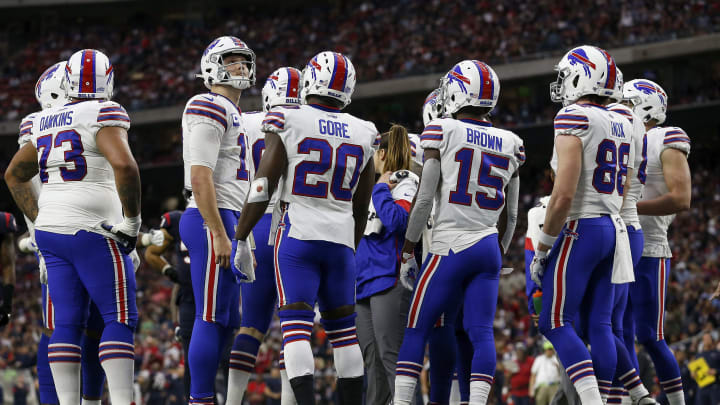 Josh Allen and the Buffalo Bills are circling the wagons. / Tim Warner/Getty Images
We live in strange times. Throw a dart out your window and it'll pierce something that seems out of place and vastly different than expected. That's true of the big stuff and the trivial.
Yesterday the NFL gave us a brief reprieve with a flurry of moves, including the Buffalo Bills trading for game-breaking wide receiver Stefon Diggs. One can argue the Minnesota Vikings got the better end of the deal by stock-piling draft picks. But in the short-term, the addition of Diggs makes an already ascendent team even scarier and better positioned for the season to come.
That and Tom Brady's departure from New England combine to make Buffalo the more sure bet in the AFC East this season. The Bills are perfectly poised to snap New England's 11-year streak of winning the division.
No one believed the boy who cried wolf because he stoked so many false alarms. No one seems to believe the Pats' dynasty is over because this has always been a freezing cold take. Remember reality, though. Remember how hapless the skill position players around Touchdown Tom were. Remember how they leaked oil before careening out of the playoffs against Tennessee.
Then consider the Bills, a young and hungry team that came perilously close to the division crown last year. A fearsome defense returns. Josh Allen has more seasoning and proved capable of game-managing his way to huge wins. He's now surrounded by a breakout back in Devin Singletary and a trio of wideouts (Diggs, Brown, and Cole Beasley) that is far superior to what the Pats have right now.
Look, Bill Belichick knows what he's doing. He, like everyone else, knows it's imperative to give Julian Edelman some company in the competency department. Yesterday saw three top wideouts come off the board. Diggs, DeAndre Hopkins, and Amari Cooper won't be options. Who knows if they were ever options. The fact remains the team still needs a quarterback.
The Patriots are, quite simply, a giant question mark. The Bills are a known entity.
The times they are a-changing. Buffalo stands to benefit.