Bucs Center Ryan Jensen Exits Eagles Game Crying, Back on the Field For Next Drive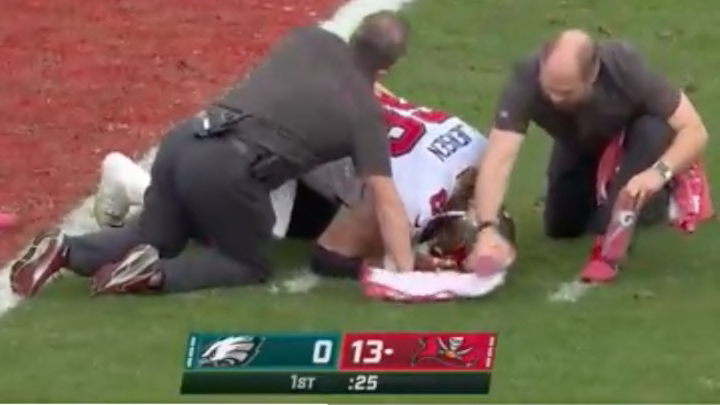 Ryan Jensen /
The Tampa Bay Buccaneers got off to a quick start against the Philadelphia Eagles during Sunday's first NFL playoff game, going up two touchdowns in the first quarter. Unfortunately, attrition set in for the Bucs and they suffered a few key injuries in that first frame to their most important (and to this point, their most healthy) position group-- the offensive line.
First, second-year tackle Tristian Wirfs limped off on the first possession of the game. Then, on Ke'Shawn Vaughn's touchdown run to make go up two scores, center Ryan Jensen went down and it looked bad. Jensen was captured slamming the ground before a slow-motion replay showed him shedding a few tears as he limped off the field, brushing off any trainers trying to help him.
Here is the full play:
This was very bad news for the Bucs, obviously. They will go as far as Tom Brady will take them and it is of great importance that the men tasked with protecting Tom Brady are as good as possible. Losing two starters is bad, but as the center Jensen is the straw that stirs the drink. If he goes down, things are dire.
Despite all appearances, Jensen was back out there on the next drive. Remarkably.
Football players are quite literally built different, it would seem.