Mike Evans in Shambles on Bucs Sideline After Dropping Second Pass of Game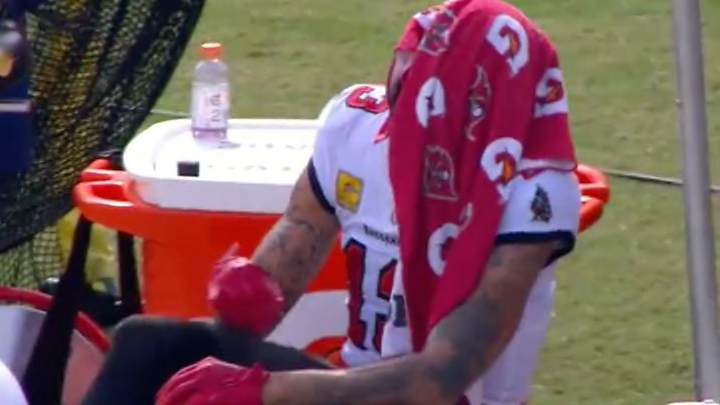 Mike Evans /
The Tampa Bay Buccaneers played host to the Tennessee Titans on Sunday afternoon as Baker Mayfield attempted to out-duel newly-minted starter Will Levis. It was rough sledding for both sides in the first half as the only touchdown came off a long screen from Rachaad White. The Titans managed a field goal but neither offense was able to get much going in the face of two dominant defensive fronts.
Mike Evans did not do Mayfield or his teammates any favors, though. On Tampa' s second drive of the game Mayfield looked for the big wideout on third down and Evans dropped the pass. The Bucs punted. Two possessions later the exact same thing happened-- Mayfield was facing a third-and-medium, went to Evans, and he dropped it again. The second was more damaging than the first because it came at the Titans' 41-yard line with less than a minute to go in the second half. The Bucx still chose to punt.
Evans was very displeased on the sideline and worked through his emotions in full view of the cameras.
Can't say the guy doesn't care, but the Bucs need him to catch the passes no matter how mad he might get. Yards and points are going to be very hard to come by most weeks and he is one of two reliable targets in the offense. He knows it, and that's why he got so mad.
Evans will attempt to channel this energy into a dominant second-half performance. We'll see how it goes.