Browns' Mike Ford Pretends to Wipe Butt With Terrible Towel After Cleveland Win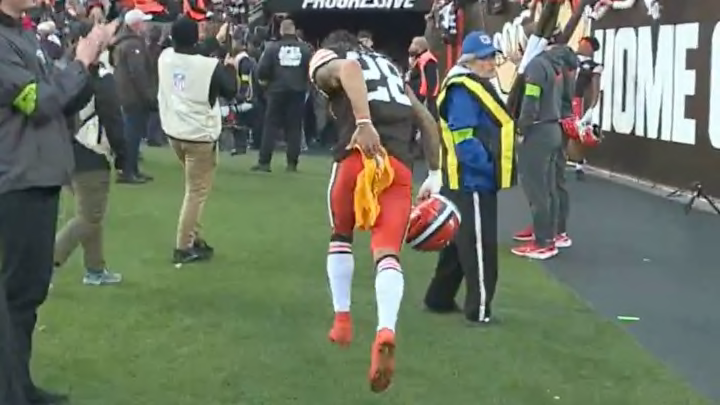 The Cleveland Browns beat the Pittsburgh Steelers, 13-10, in Week 11. Dustin Hopkins kicked a 34-yard field goal with two seconds remaining to cap a low-scoring affair that saw the Browns defense hold the Steelers to just 249 total yards and 12 first downs. To celebrate his unit's great performance, cornerback Mike Ford pretended to wipe his bottom with a Terrible Towel.
Don't judge Ford harshly. If you watch the full video you'll notice that he gifted the Steelers fan with a Cleveland Browns towel. That's part of the giving season and it's definitely a newer towel than the one that fan brought to the game. Who among us is turning down new towels?
As for the butt-wiping pantomime... that's certainly less acceptable. It's disrespectful. It's immature. It's the kind of thing that is really going to bother Pittsburgh fans. I bet if you look you'll find someone using the words "real classy" right now.
Where else would a dish towel mean so much to such a large group of people? That's what's so great about sports. The irrational attachments to laundry, whether it's another person's work outfit or a small piece of cloth that could be used to dry your hands.