Deshaun Watson Injured After Attempting to Gift Colts an Easy Interception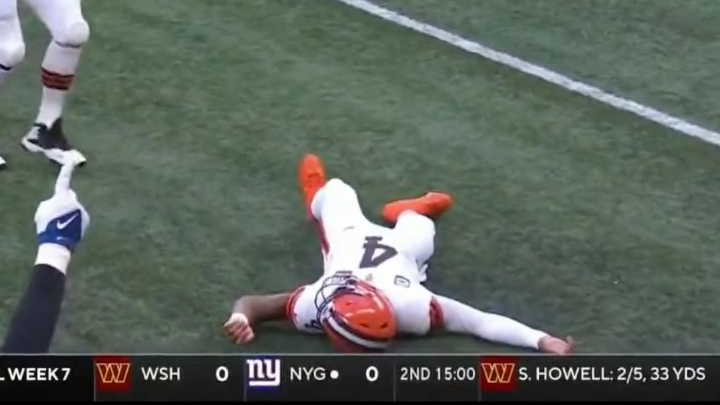 Deshaun Watson /
Deshaun Watson returned to the field today for the Cleveland Browns after missing a few weeks with a weird shoulder injury that the team has been strangely vague about. He did not get off to a good start as he threw a pretty terrible interception against an average Indianapolis Colts defense in the first quarter. The Browns still got points on the board early thanks to a long run by Jerome Ford, but still found themselves down 14-7 late in the first quarter when things got worse.
Watson was facing a third down and faced pressure quickly. He spun out of the pocket and appeared set to make a big play. Instead, though, he gently lofted a pass directly into the hands of a Colts defender. To add injury to insult, Watson got pushed to the ground afterwards and went down really hard. The pick was overturned on review but that doesn't really make the decision any better.
Here's the play:
And a replay of Watson hitting the ground:
It goes without saying that this obviously did not deserve a penalty. Watson headed to the blue medical tent on the sideline and PJ Walker came in to relieve him, leading a TD drive shortly thereafter.
It seems this is just who Watson is now. He missed a season trying to get out of Houston and then missed 11 games of the following year due to a suspension for the many sexual assault lawsuits filed against him. Apparently that is just too much rust to shake off. Watson regularly makes horrible decisions and doesn't have nearly enough positive plays to compensate for the worse ones.
Now he's just a very overpaid quarterback who elicits no sympathy from anybody in football. Cleveland has a good one, obviously.