New Broncos Kicker Taylor Russolio is an International Man of Mystery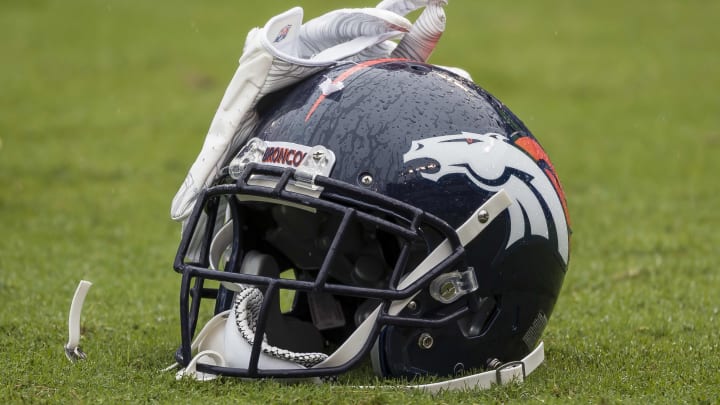 Single Broncos Helmet / Scott Taetsch/Getty Images
The Denver Broncos will take on the Buffalo Bills tonight as a part of the rare NFL Saturday evening double-header. Denver's season is more or less over, but Drew Lock is probably playing for his job at this point along with head coach Vic Fangio, and playing spoiler to the rolling Bills would go a long way towards ensuring both will be there next year.
Unfortunately, they're dealing with another COVID-19 outbreak and were forced to put kicker Brandon McManus on the reserve list. The backup they've enlisted to start tonight in his stead? One Taylor Russolio. If you have not heard of Russolio, you are not alone. In fact, he's an international man of mystery.
And that statement is more literal than you might think. Russolio was undrafted after graduating from Millsaps College, a D-III school in Jackson, Mississippi. He then took a rather unusual and winding path after finding no NFL teams with any interests in his skills.
Russolio started off as kicker for the Marion Blue Racers, an indoor football team based out of Marion, Ohio. Yes, that is a real team. Or they were, anyway, until the X-League Indoor Football program folded in 2015. Russolio then moved on to the arena football league as a member of the New Orleans Voodoo (great name) and then the Spokane Shock.
This is where it gets interesting. Russolio ended up in China as a member of the Shanghai Skywalkers (!) in 2016. I did not know there was a football league in China, nor did I know they had such a sick name. Ideally, Russolio's season ended better than The Rise of Skywalker did. Sorry to bring up those memories. Anyway, the well-traveled Russolio went to Canada after that for a season with the Montreal Alouettes before he joined the XFL in 2020 as a member of the St. Louis BattleHawks. Now, he's in the NFL.
This kind of thing doesn't really happen in professional football. Other sports have a few paths available to take before getting to the big leagues; it is far from unusual for baseball and basketball players to play in countries around the world before breaking into the NBA or MLB. Not the NFL, though. They don't really have an international presence and basically every player in the league right now did the standard Pop Warner to high school to the NCAA to the NFL route.
Not Russolio! The man has been a journeyman kicker of four different leagues and has finally been rewarded. Good for him. Tonight, he gets his shot.