Broncos Safety Kareem Jackson Ejected After Dirty Hit on Logan Thomas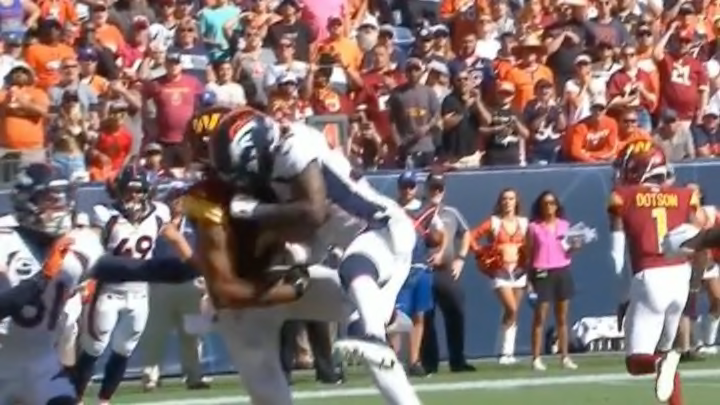 The Denver Broncos were on a roll in the first half of the team's Week 2 matchup against the Washington Commanders on Sunday, but the visiting side was not going to roll over that easily. After Russell Wilson hit a couple of deep shots to put the Broncos up 21-3, the Commanders marched down the field in the final minutes of the second quarter. Denver's defense held strong for the first three downs and forced Washington into a fourth-and-goal.
Sam Howell managed to find Logan Thomas on a crosser for a touchdown. However, Broncos safety Kareem Jackson went headhunting and obliterated Thomas right after he made the catch. It was a massive and dirty hit that nearly led to a fight in the end zone.
The slow motion replay shows Jackson leaping to hit Thomas, which is why nobody should object to his ejection. It was a bang-bang play but it was incredibly dangerous.
As noted by the tweet above, this is the second week in a row Jackson has pulled something like this and gotten someone hurt. Here's his hit on Jakobi Meyers in Week 1. Meyers missed Week 2 with a concussion.
Thomas is also being evaluated for a concussion but he was able to jog off the field under his own power.
Bad, bad stuff. It would not be surprising if Jackson was facing a suspension for this. He'd deserve it, too. No reason to hit a defenseless receiver that high.