Brock Purdy's Head Slammed Into the Turf, He Wasn't Checked For a Concussion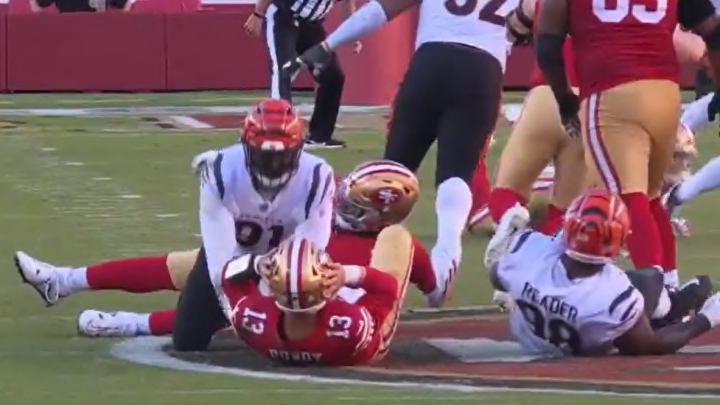 Brock Purdy was in concussion protocol last week but after only four days, the San Francisco 49ers declared their quarterback ready to play on Sunday. He looked awful during a 31-17 loss to the Cincinnati Bengals. More concerning, late in the game Purdy was hit and slammed his head into the turf but no one pulled him off the field. He stayed in for the remainder of the game.
The play in question game with 1:59 left in the game. Purdy dropped back and was intercepted by Bengals safety Dax Hill. Purdy was hit after throwing by D.J. Reader and that drew a roughing the passer penalty, negating the interception. On the hit, Purdy went down hard and slammed the back of his helmet on the turf. He immediately grabbed the top of his head.
Watch:
For some reason, the NFL concussion spotter didn't pull him out of the game for a check, and the 49ers allowed him to play the rest of the game. On the next play, Purdy was sacked by Trey Hendrickson and fumbled. Cincinnati recovered. After the Bengals punted, Purdy came back on the field for the 49ers' final two plays.
There is no question Purdy should have been yanked from the game, especially considering he was in concussion protocol last week. The NFL needs to look into this.
Purdy didn't seem to be himself all day. He finished the game completing 22 of 31 passes for 365 yards, with a touchdown, two interceptions and a fumble. The yards number is big, but he just wasn't as pinpoint in his accuracy as we've seen him in the past.