Briana Scurry Discusses Her Podcast, Inequality in Women's Sports and What It Takes to Win a World Cup
Briana Scurry hosts "Counterattack," which tells the story of Sinead Farrelly and Mana Shim, who blew the whistle on coach Paul Riley for sexual misconduct.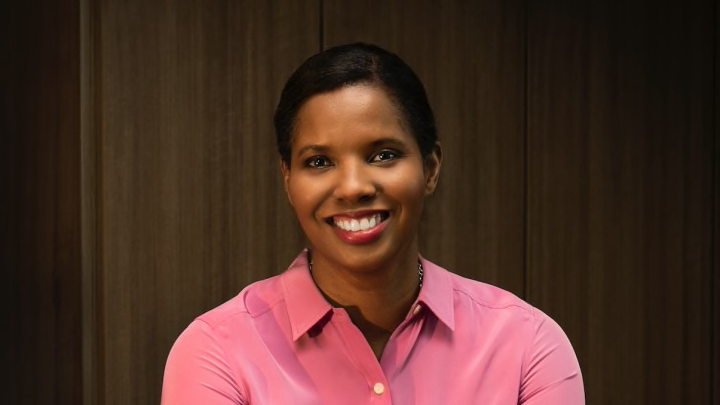 The 2023 Women's World Cup is in full swing, and the hype around women's soccer has never been higher. Yet the staggering level of inequality women face compared to their male counterparts remains. National Soccer Hall of Famer Briana Scurry has a new podcast out that shines a light on those inequities through the lens of a scandal that rocked the sport in 2021.
Scurry hosts a six-part podcast, Counterattack, produced by Religion of Sports and PRX. The series discusses professional players Sinead Farrelly and Mana Shim's experiences dealing with sexual misconduct and mistreatment at the hands of coach Paul Riley. The women decided to go public and their stories were told in an incredibly thorough piece in The Athletic. The resulting scandal flipped the National Women's Soccer League on its head and raised issues about the sport that needed to be addressed at every level.
Farrelly and Shim's stories are at the heart of the podcast, which further explores the inequality women face in the world of soccer and sports in general.
Scurry is an authoritative voice on the subject. She made 175 appearances at goalkeeper for the U.S. National team during a 16-year soccer career. She won two gold medals in three Olympic appearances, went to four World Cups and was the keeper for the 1999 U.S. squad that won the cup on American soil and inspired a generation of players. She is also the author of one of the most famous penalty kick saves in the history of the sport.
Scurry sat down with The Big Lead to discuss Counterattack, Farrelly and Shim's stories and inequality in sports. She also gave us her thoughts on the World Cup and the current U.S. Women's National Team squad.
The Big Lead: What was it about this story that drove you to do the podcast?

Briana Scurry: When I first heard about what had happened to Sinead and Mana and I read about it in the Athletic. I normally don't read articles all the way through, I just look for the headlines. But I read the whole thing and it just made me feel sick. It made me angry. I was gutted by it. Part of the reason I was gutted by it was because it was my sport that my teammates and I had worked so hard to build in this country.

At the heart of it, I was angry and sad because I felt Paul (Riley) took away these two young players' dream. And to me that was the most vile thought that I had because neither of them played anymore. It was just so upsetting to me. When I got contacted by Religion of Sport to do this I was all-in. And I wanted to do something as positive as I could with the situation.
TBL: Did you feel telling their stories in this format could make a difference?

Scurry: If these two young women were willing to talk to me I would be willing to take the time and effort to get in there and maybe help them somehow. I just felt like it was a really nice chance for me to help, more than anything else. I could be part of a positive thing.

I'm a huge podcast listener anyway, so I understood what could be done with the medium. You can go a lot more in depth over the course of six to eight episodes. I've listened to tons of them, so I understood that.
TBL: A section of the podcast focuses on the inequality women in sports face. Did you feel that while you were playing?

Scurry: I remember at the end of 1995, early 1996, basically going on strike with eight of my teammates who were also starters (on the national team) at the time. I essentially put my Olympic dream on the line. I had wanted to be an Olympian since I was eight years old. I was so very close to being able to achieve that dream. But we had leverage at that point to right the wrongs of inequality.

The women's national team has a dual mandate. That's how I see it. One is to play brilliant football on the pitch and win everything. Literally the standard is to win everything. The second part of that mandate is to raise the bar on equity and trying to get as close as we can to getting what the men get. During my time with the team our foundational pieces were there to raise the issues and make it a public situation.
TBL: I'd imagine hearing their story brought back feelings for you.

Scurry: When this came up, the fact that these players were also feeling that the coach made them think it was their fault. And nobody was doing anything meaningful to help, and he was getting shuffled around. I was just disgusted.

A coach can train you. And when they come into your life, they're supposed to take care of that time that they are with you, and they're supposed to add to your skillset, to your character, to your personality, to your range of being a great footballer and a great person. And this was the opposite.

It made me so mad on so many levels I can't even explain -- I'm doing the best I can to explain, but it just made me so mad.
TBL: Sinead Farrelly has said she was inspired by the 1999 U.S. team's World Cup run. What was it like working with someone you had inspired?

Scurry: With the exception of people who are of a similar age to me, anyone who's mid-30s and younger that aspire to play on the women's national team, there's a direct line to the 99ers because we are ground zero basically. In terms of people seeing something and being inspired by what they're seeing, so that didn't surprise me.

Being able to talk to her and getting her to open up and be comfortable enough with me to discuss it, her engery is amazing. She has a vibe or an energy about her that is really -- you can feel it. And so it was really neat to connect with her and I wanted to do everything I could to pay the proper credit and time and honor to her story.
TBL: What do you hope people will take from the podcast?

Scurry: I would say that, you know, a dream never really dies. Time goes by and sometimes they fade and sometimes they get timed out for whatever reason, depending on what the dream is, but, Sinead dream and Mona's dream eventually came true. And even though they went through these horrible things with the coach, they were both able to continue to contribute to the game once they were able to feel better about who they were and deal with their emotional scars and their emotional pain.

They made that pain into something positive, which is literally one of the most difficult things in the world to do really.
TBL: How do you feel about the direction both are going in now?

Scurry: I mean, Sinead is like a rocket ship and so is Mana. When you look at exactly what they're both doing now, I mean Mana is basically in charge of safety for the whole U.S. Soccer Federation. Then Sinead is on Ireland's national team at the World Cup. And that's where she should have been all along because she's good enough.

I couldn't have hoped for a better ending, or beginning, however you want to look at it.
TBL: Would you like to continue doing more podcasts and broadcasting?

Scurry: I wouldn't mind it. It's been really fun, I really enjoy it. And with broadcasting I obviously really enjoyed doing that at a high level with national team qualification last year in July. So however I can influence and inspire. That's what I do. My bread and butter now is I do a lot of keynotes, inspirational speeches with organizations and whatnot. I'll be at the World Cup with my family in August as part of the FIFA Legends Program so that's great. That'll be fun to watch the current team do their thing.
TBL: Even at the time in 1999 it felt like there was a lot riding on that U.S. squad's success. It was a big moment for soccer in this country and women's sports in general. Could you feel that at the time?

Scurry: Well, I can honestly say I was just locked in the competition. My philosophy's always been just get the ball, I'm not really thinking about all the other ripples that did occur. I finally realized it when Robin Roberts came to training a few days before the final. Because I know when Robin Roberts shows up to interview you it's serious. I'm like, "Oh, Robin's here?"

That's when I knew we were doing something right and people were paying attention.
TBL: You've been to four World Cups. The event lasts a month and has to be a grind. What do you think is the biggest key to a successful run?

Scurry: Well it's two things every time. It's getting on a run at the right time and staying healthy. I mean, recovery, recovery, recovery. And if you were to look at the years the USA didn't win, there was almost always a pivotal injury or player missing.

And the only thing that matters once you're there is the first game and the last game. That's it.
TBL: The U.S. women are going for their third straight World Cup title. What's your assessment? Can they do it?

Scurry: It's tough. If you would have asked me before Mal Swanson went down, and if Becky Sauerbrunn was there as leadership, I would have said there was absolutely no reason they couldn't win. But now my main concern is when you take out a leader in the back like that who is basically the mouthpiece, someone else has to be that now. And I have absolute faith in Naomi Girma. I've met her, she's fantastic. And so is Alana Cook. But this is their first time. It's going to be hard because (keeper) Alyssa Naeher can't do it all herself. That goalkeeper and center back are connected. You do it together.

I don't have any worry about getting goals. Between Sophia Smith, Trinity Rodman, Lynn Williams and Alex Morgan up there causing trouble, there's a lot of goals in those four people. They could break the record for goals scored this time around.

It's going to be interesting, but they can do it.