Brian Windhorst: Zion Williamson Dunking Before Pelicans Play-In Loss Was an 'Odd Decision'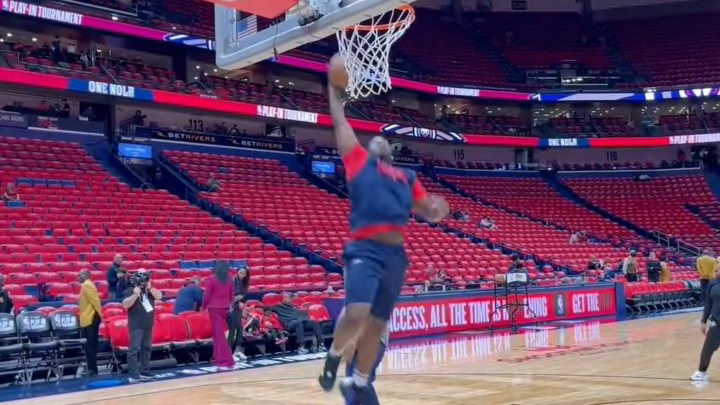 Zion Williamson dunking /
Zion Williamson has been out since January 2 with a hamstring injury. We got proof that the hammy is healed, at least, when he decided to put on a mini dunk contest last night before the New Orleans Pelicans' play-in game against the Oklahoma City Thunder. While the superstar told reporters he isn't taking the floor until he feels like Zion again, he certainly looks like Zion.
The Pelicans would go on to lose a hotly-contested game to the Thunder and their season is now over, which means Zion is under a stronger microscope than ever today. Such is life when you put on a show before the game and then don't play, even if the explanations given for why are very reasonable.
Brian Windhorst touched upon the matter on Get Up and explained why he felt Zion's decision to throw down windmill dunks before a win-or-go-home game was an odd decision.
"I'm going to take it back 12 months. Zion played some games last year when he wasn't cleared to return from that foot injury, started posting stuff on Instagram of him dunking, tantalizing fans. Then he does this. From what I understand he hasn't done this before a game in several weeks and choosing to do this with national television cameras recording it is just an odd decision. From what I am told, Zion was not even close to ever playing. He had not done anything meaningful in practice. Forget about 5-on-5, he hadn't been cleared to do 1-on-1 yet. He was nowhere close to playing, he comes out with those quotes two days ago that he actually can play but mentally can't play, that's a little bit complicated to say publicly right before a playoff game. Then he does this."
When framed like this it sure is weird, isn't it? Zion must've had some awareness of how people would take the images of him dunking before an elimination game that he didn't play in. It does not encourage a positive perception of his situation especially since most fans aren't interested enough to look up his quotes about him not being mentally ready. If he had made a habit of doing it recently, or even did it before a regular-season game, it would make more sense. Doing it when the maximum amount of cameras were recording is not a whimsical decision. It feels like tossing a match onto kindle for no real reason.
It could just be Zion wanting to remind everyone that he can still play, even if nobody has seen him do it very much over the last few years. It could be reflective of tension bubbling beneath the surface, as hinted at by Skip Bayless yesterday. It could be nothing at all. But it's a conversation, and it's only happening because Zion wanted it to.
Odd indeed.