Latest NBA Leads
Brian Windhorst Forces Himself to Lay Out Blueprint For Latest LeBron James-Cleveland Rumor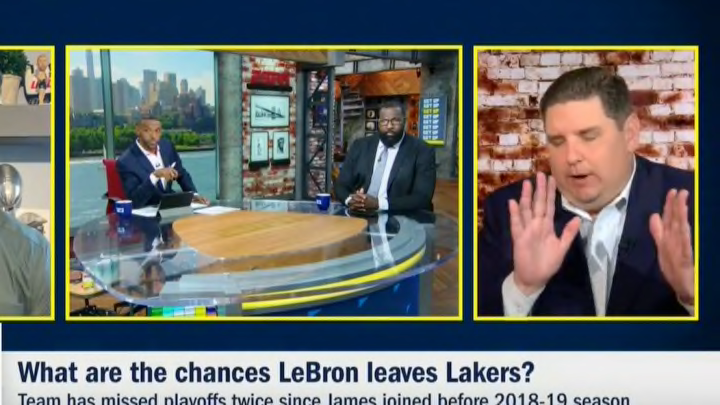 The NBA Draft was last night and the Cleveland Cavaliers took Ochai Agbaji with the 14th pick. After a ninth-place finish in the Eastern Conference and two straight play-in tournament losses, Agbaji does not seem like the type of addition that will get the young Cavs to the next level. So what can Cavs fans get excited about? How about the thought of 38-year-old LeBron James coming back to Cleveland for a third go-around? Brian Windhorst floated the possibility on Get Up on Friday morning.
"If you want to have a conspiracy theory, watch the Cavs' moves over the next couple of weeks. They are going to extend Darius Garland, their All-Star point guard. That is going to happen. But they have a couple other moves that they could do that would potentially eat away their cap space for next year which is what I would think they would do as a young team. They should never be a free agent player. But if the Cavs do not retain Collin Sexton. And they do not extend Caris LaVert, which is two things on their menu of options. And they leave open their cap space in 2024, er, 2023, it's interesting food for thought. Just keep an eye on that."
The look on Windy's face as he started going down this road is something. It's like he's being forced to bring this up, but it's part of the job so somebody has to float LeBron to Cleveland Round 3. Maybe the true pain in his voice comes from the fact that LeBron going back to Cleveland means that ESPN would ask Windy to move back to Cleveland too. Just keep an eye on that.