Brian Kenny and Joel Sherman Play TBL Bingo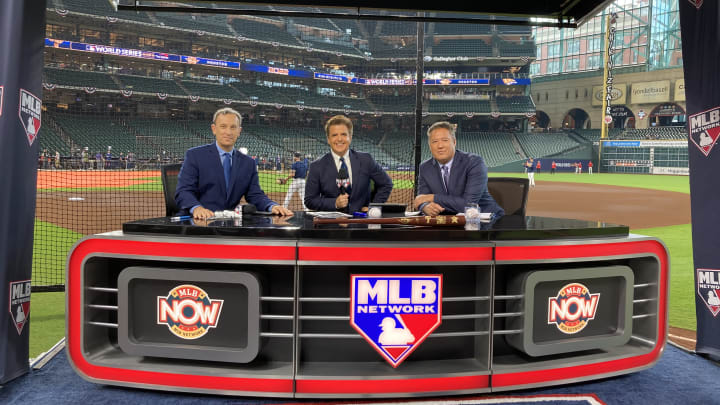 It's time for another edition of TBL Bingo, America's 26th-fastest growing game where we get to know a little bit more about the sports media personalities from the internet and on television. We're back with Brian Kenny and Joel Sherman, who are working their ninth consecutive World Series together as part of MLB Network's MLB Now airing at 4 p.m. throughout the Fall Classic.
"In the World Series especially, strategy and tactics matter," Kenny told The Big Lead. "We have fun, but we don't talk nonsense. Teams devote enormous time and energy to their decision making, and we are given an hour to do the same."
"Sincerely, my favorite thing to do every year is MLB Now from the World Series," Sherman added. "It just feels like we are in the perfect time slot between where reviewing – and dissecting – yesterday's game is still relevant and setting up today's game is obvious. We are on the field as life begins to stir – like we are opening the greatest baseball night spot in the world. You can feel the tempo and intensity of the day begin to change literally behind us."
The rules of the game are simple. Each card contains 24 questions. Subjects can answer any they want, but the interview doesn't end until they get Bingo. There are no prizes outside of the satisfaction of a job well done.
Brian Kenny
Biggest Mistake?  My high school mustache. 
LeBron or Jordan? Kareem.
Best Pizza Topping? Sausage. 
Must See TV? High Heat with Mad Dog in a lather.  
First Car? A 1975 Dodge Duster — later stolen at St John's.  
Hot Dog or Hamburger? Burger.
How'd You Get Here? Twelve years in local TV, 14 years at ESPN, 12 years at MLB.  It's a hard road to glory.  
What's Underrated? Family dinner.
What's Overrated? Bunting.
Journalism Advice? From Kurt Vonnegut:  Focus less on writing style, and more on writing something interesting.  Also: Be an honest broker of information.
Good to work with?  Strong opinionated people who are unafraid.   Like my former colleague, the late, great Jim Bouton.   
Childhood Idol? Joe Namath, Walt "Clyde" Frazier. 
How Do You Relax?  Bourbon.  
Good Interview? Floyd Mayweather.  
One Movie For Life?  Christmas Vacation. 
Guilty Pleasure?  Action movies.  
Career Highlight? Hosting the Baseball Hall of Fame Induction Ceremony.
What could have been?  NYPD. Like my Dad.  
First Concert? The Police.  The Go-Go's opened.   
Perfect City To Live In? Dublin.
Funniest Friend? Greg Amsinger is underrated funny. 
Who Plays You in a Movie? Tyrus from Gutfeld.
Joel Sherman
Who Plays You? Florence Pugh. Is there really another choice?
Biggest Mistake?  Saying Florence Pugh in the first answer because we are now off to such a poor start.
LeBron or Jordan? Abdul-Jabbar – the whole career. High school. College. Pro.
Best Pizza Topping? It has to be done well, but when it is – artichoke.
Must See TV? The Larry Sanders Show was the best thing ever on TV.
First Car? A silver Sunbird held together by masking tape and dreams.
Hot Dog or Hamburger?  Hamburger.
How'd You Get Here? I wish I could say that silver Sunbird, but I would have never made it. There also is no easy answer, but at its core I believe in simply seeing if I can outwork you – if you show up at 2, I will show up at 1:30, if you show up at 1:30, I will show up at 1. If you talk to two people, I will talk to four. If you ask three questions, I will ask five. I never had regret making two extra calls on a story/column – only not doing it.
What's Underrated? Quiet.
What's Overrated? Gimmicks.
Journalism Advice? Red Smith, before he passed, said, "A sports writer who believes the world is only as big as the outfield fence is not only a bad citizen of the world, but a bad sports writer as well."
Good to work with? Mike Vaccaro in newspapers. Super talented and smart, a great teammate and better person. Ron Darling in TV. I really do learn a ton doing TV at the network, including just watching pros handle so much adroitly live and without blinking. But no one makes me think when they say something like Ron does.
Childhood Idol? Pete Rose, Dr. J., Clyde Frazier. In newspapers, Mike Lupica.
How Do You Relax? Nothing gives me zen like cooking for people I care about.
Good Interview? Pedro Martinez, A.J. Hinch, David Cone, Brandon Nimmo, Larry Bowa, Darryl Strawberry. Really, lots of people. Folks in the game have actually been incredibly kind with time and insight in my years. I leave most interviews with at least a little something I didn't know before.
One Movie For Life? Network
Guilty Pleasure? I basically don't eat M&M's because if I start, it is not easy to stop.
Career Highlight? No one ever likes my answer to this. I am my father's child and he was the hardest-working person I have known. I want to believe what is best about my work is that I never throw a day away. I'm not waiting for the World Series or the Trade Deadline to try to do my best. My dad, when he was alive, bought the paper every day. I had no idea which edition he would get. So I never just said, "The hell" to an edition. Because he deserved my best work if it was June 4 or Aug. 9 or Oct. 15.
What could have been?  In an alternate universe, I would have tried to be a chef or unmoored and just traveled and figured it out along the way – probably trying to work in kitchens as I roamed.
First Concert? I saw tons of local bands at dumps when every place pretty much looked the other way at my fake ID, but the first significant one was The Cars at Nassau Coliseum sometime in the early '80s.
Perfect City To Live In? I'm not going anywhere. New York.
Funniest Friend? Too many to list.