Brian Daboll Freaks Out at Giants on Sideline After False Start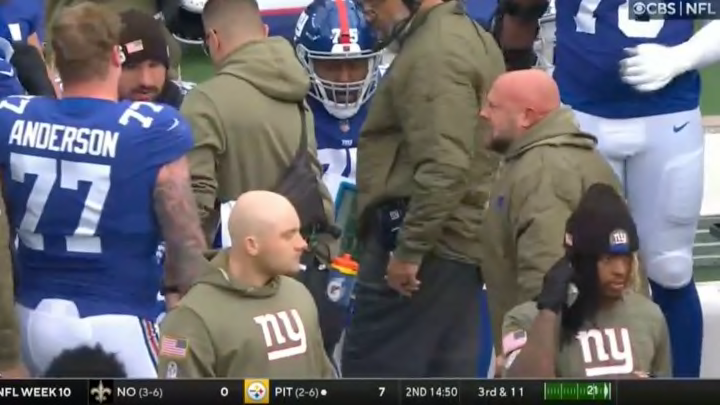 Brian Daboll getting big mad /
The New York Giants jumped out to an early lead over the Houston Texans at MetLife Stadium on Sunday afternoon. Daniel Jones tossed a TD pass and New York was up 7-3 after the first quarter. The first play of the second quarter caused Giants head coach Brian Daboll to blow his top on the sideline.
The Giants had fourth and one on the Texans' 36-yard line. Daboll sent out a jumbo package to try to pick up the extra yard. But guard Jack Anderson was flagged for a false start, pushing everything back and forcing the Giants to punt instead. Daboll absolutely lost his mind as a result and spent several moments screaming at Anderson and eventually the entire offensive line on the sideline.
The rookie head coach has showed some fire on the sideline through the first nine weeks of the year but this is his first real blow-up at his own players. Congratulations to Daboll for officially joining the head coaching ranks. And keep Anderson in your thoughts tonight. The things Daboll was saying will probably haunt him long after the final whistle.