Braves Mascot Destroys Small Child With Stiff Arm During Halftime of Vikings - Chargers Game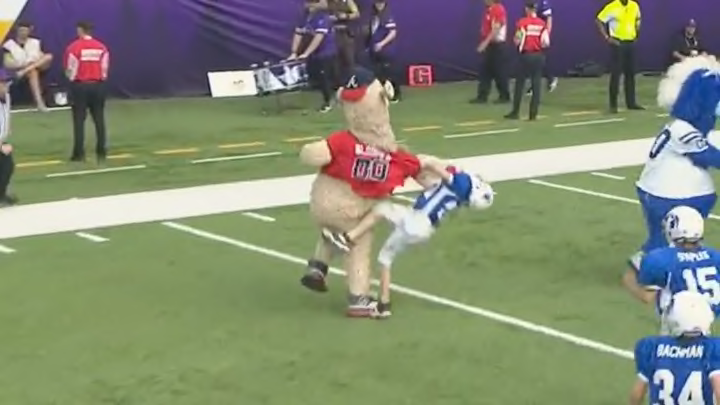 The Minnesota Vikings hosted the Los Angeles Chargers in Week 3. The Vikings also hosted a mess of mascots who took on a peewee football team and again it resulted in a young person getting stiff armed into oblivion by an adult in a mascot costume.
That's the Braves mascot, Blooper, shoving a child to the ground on his way to scoring a touchdown in what is easily the most pointless exhibition in all of sports. You may recall something similar happened last week when a player got floored by a random piece of cheese.
Not to be outdone, Benny the Bull appears to have horse collar tackled a kid today. A play that is so dangerous that it was made illegal in the NFL and we've got a grownup in an expensive Halloween costume doing it to a preteen so a few people who look up from their phones during halftime are entertained.
It's been about a year since the Ravens' mascot had to be taken off the field on the injury cart during one of these games. And on the same day Blooper was again beating up on little kids. I get why they do it, but I also don't because come on.