Brady Hoke, J.D. Wicker Give Shameful Press Conference Discussing Matt Araiza Rape Case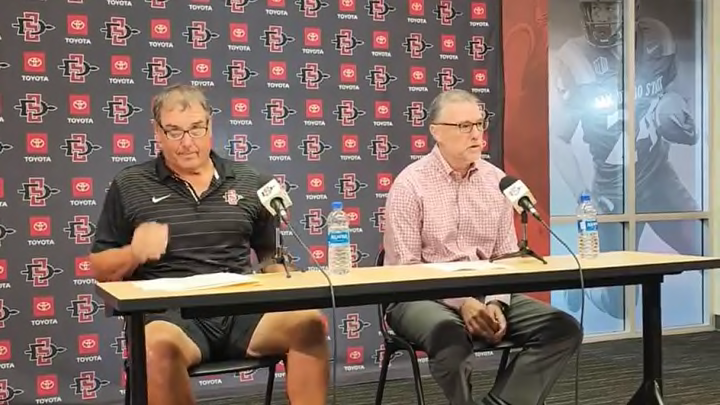 San Diego State finally addressed the Matt Araiza rape allegations on Monday and, boy, it could not have gone worse. Head football coach Brady Hoke and athletic director J.D. Wicker both read prepared statements before departing without answering further questions on the matter. While Wicker did eventually return, it was a terrible look for the football program, athletic department and the university as a whole.
Here are the statements:
After finishing those statements, the assembled reporters hammered the two men with questions about the alleged gang rape that Araiza is accused of being a part of. They stated they had nothing further to say, then walked out.
This video includes the walk-out at the end:
Hoke absolutely looks wildly uncomfortable and like he doesn't want to be there in both videos. I'm sorry, but if you're the coach of a college program and this kind of thing happens on your watch, you should be prepared to sit and answer every question reporters have about it, not run away and hide from them like a coward.
Wicker did come back and answer some questions:
Then Hoke returned but only to talk about football:
What an absolutely horrible look.
Stories over the last few days have circulated that a significant number of SDSU's football players knew about the gang rape allegations dating back to last season (the alleged incident took place in October). In fact, the story had circulated on campus for the better part of the year. Araiza was a national figure on the team as the "Punt God" had gained a cult following. It's hard to believe the team's coaches and administrators hadn't heard anything about it until now.
Additionally, the program is opening a new stadium this weekend. This is not the kind of press it needed heading into that athletic department-changing event.