Bracketology, Pre-Conference Tournament Edition: Duke and Kansas Battling for #1 Seed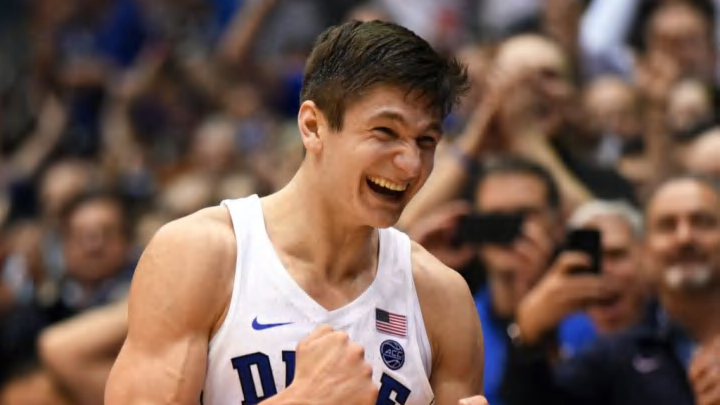 The Big Ten Tournament has concluded, and everyone else is going to get into action this week with tournament spots and seeding on the line. Michigan State and Purdue both lost opportunities to add big wins and put themselves in the mix for a #1 seed in the NCAA Tournament. Michigan, meanwhile, has surged to a 3 seed in my projections, and I have them ahead of Michigan State after their second win over the Spartans (which could be important in getting a preferred spot).
That leaves, in my estimation, Duke and Kansas coming into the week trying for that last spot. Now, I have Duke there. Kansas, to me, is not a #1 seed. They just got dominated by Oklahoma State and have now lost 4 games to teams that either are on the bubble (and only because they beat Kansas) or out of the field. That does not represent one of the four best teams. Still, I think Kansas can overcome that by winning the tournament and getting to 27-7. I don't see how an 8-loss team with the types of losses Kansas has had should ever be on the 1 line.

Duke probably needs a deep run and to play in the final as well. If neither of them survive the week, Auburn is lurking if they win the SEC tournament, and Cincinnati got the road win at Wichita State and so their outside hopes are alive.

There will be plenty of movement in the middle seeds. The SEC Tournament could decide the pecking order of teams out of that conference, and the same is true of the ACC Tournament if any of the teams can make a run.


The Bubble resides out West, as I have almost half the conference either just out or just in. I'm reluctantly keeping Arizona State in on the strength of their early wins over Xavier and Kansas that had them ranked in the top 10 at one point, but they've just about squandered it and can't afford a bad loss to Colorado. I've got Louisville and Alabama just out, but the margins between them and the teams right in front of them is thin. For these teams, it's win, or be at risk.

Here is a projected bracket using my seed list. (I had to swap UCLA and Florida State for bracketing purposes).