ESPN's Bobby Marks Draws Up Insane Mega-Trade Involving Kevin Durant, Donovan Mitchell, Ben Simmons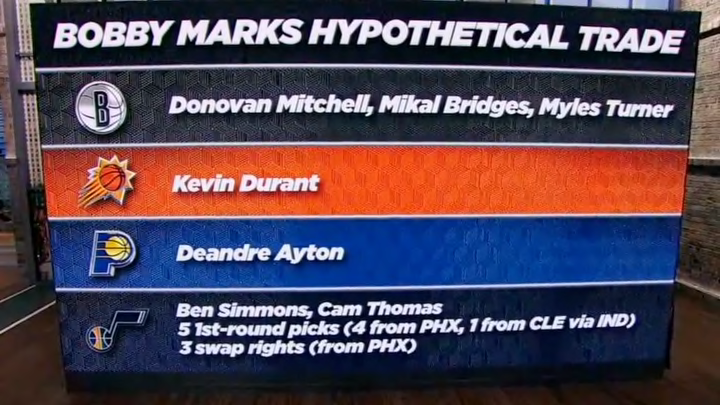 Bobby Marks! /
This summer has already been a rollercoaster ride in the NBA and it doesn't seem like we're close to done yet. After the last two weeks have been dominated by Kevin Durant and Kyrie Irving trade discussions, Donovan Mitchell entered the ring with new reports emerging this week that the Utah Jazz would listen to offers for their young star.
It has made for tremendous content for ESPN's daily basketball show, NBA Today. On Wednesday, Bobby Marks took the floor and whipped up a wild four-team mega-trade involving KD, Mitchell, Ben Simmons, Deandre Ayton, and a whole lotta picks.
As far as massive trades involving multiple superstars and hundreds of millions of dollars go ... It isn't bad! The Nets move on from the KD/Kyrie era with Mitchell flanked by two quality defenders. The Suns get KD. The Pacers get Ayton for a first-round pick. And the Jazz end up with Simmons as a reclamation project, a haul of picks to utilize along with Cam Thomas.
The team likeliest to balk here is Phoenix. The Suns give up seven picks, Ayton, and Mikal Bridges to get Durant in this scenario. From what we've heard, they've already balked at giving up that much for KD, and even if they were willing, the trade probably would've happened already.
I'll tell you what -- the Jazz would have to be psyched about this. They basically get a Durant trade haul in return for Mitchell, a very good player who is not Durant. It would be another coup for Danny Ainge.
This will never happen because it's almost impossible to make four separate teams happy with one trade. Marks' proposal comes close but someone would wind up feeling like they got the short end of the stick and make enough fuss to leave it dead in the water. Fun to imagine, though!