Canadian Government Won't Let Blue Jays Play Games in Toronto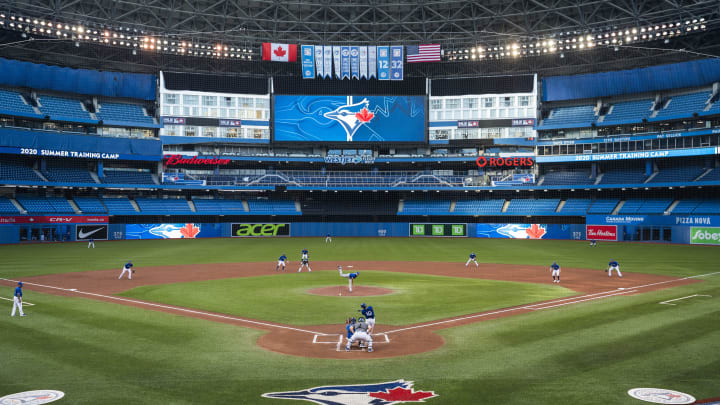 Blue Jays Stadium / Mark Blinch/Getty Images
The 2020 MLB season is slated to kick off on July 23. Saturday, however, brought a rather substantial obstacle for the one team that doesn't reside in the United States. The Associated Press reports the Toronto Blue Jays have been denied permission by the Canadian government to play in Toronto. Here's the statement from Immigration Minister Marco Mendicino:
""Unlike preseason training, regular season games would require repeated cross-border travel of Blue Jays players and staff, as well as opponent teams into and out of Canada. Of particular concern, the Toronto Blue Jays would be required to play in locations where the risk of virus transmission remains high," Mendicino said. "Based on the best-available public health advice, we have concluded the cross-border travel required for MLB regular season play would not adequately protect Canadians' health and safety. As a result, Canada will not be issuing a National Interest Exemption for the MLB's regular season at this time.""
And here's the Blue Jays' statement on the ruling:
Canada is still maintaining strict coronavirus guidelines and hasn't yet opened up its border to the United States, which is why the Blue Jays would need special permission to hold games. Right now, the government requires a minimum 14-day quarantine from anyone who enters the country. That obviously wouldn't be doable for a professional sports team slated to show up in Toronto, play two games, and leave immediately afterwards.
While this once again raises questions about how feasible putting on pro sports is during a global pandemic, this is a pretty big problem for the Blue Jays. They're supposed to open their season against the Nationals at the Rogers Centre on July 29. The government isn't going to change its mind over the next 11 days. Less than two weeks is an impossible window to set up a bubble stateside for the Blue Jays, and that's just logistically speaking. I imagine many a Blue Jays player would strongly reconsider their decision to participate in the shortened season if it also meant they would have to go into a bubble environment, unlike their coworkers across the league.
But if the Blue Jays are hellbent on having games, what are their alternatives? They can't only play road games and live in hotels across America. They can't play games at their home stadium. If the government won't play ball, neither will the Blue Jays. If the Blue Jays can't play, that changes everything. Right now, it's very difficult to see a way they can.