Latest NBA Leads
Blazers PR Won't Let Chauncey Billups Answer Question About 1997 Sexual Assault Allegations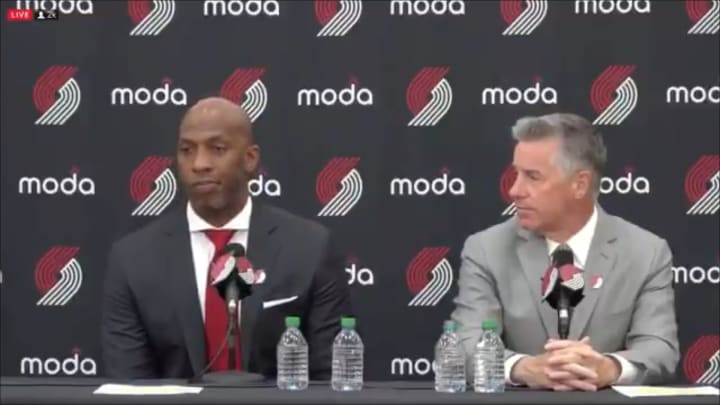 Chauncey Billups being introduced at as the new head coach of the Portland Trail Blazers /
Chauncey Billups was introduced as the new head coach of the Portland Trail Blazers on Tuesday and immediately there was controversy.
During the introductory press conference, The Athletic's Jason Quick asked Billups to elaborate on an answer he gave earlier about sexual assault allegations against him from 1997 and was shut down by Blazers PR.
Here's what happened:
It was a pretty shocking moment that could portend rough waters in the future for Billups, because the issue isn't going to just disappear.
I just don't get how you don't let Billups speak for himself there. This isn't a new issue that just came up or is currently being investigated. Let him issue a statement. He was a broadcaster on ESPN for five years, he knows how to handle himself in front of a camera and around reporters. If that doesn't provide confidence, give him a statement to read. Not even allowing him to speak is the worst possible look here from the Trail Blazers.
For those unaware, back in 1997, Billups and former Boston Celtics teammate Ron Mercer were accused of sexually assaulting a woman. The incident allegedly occurred at teammate Antoine Walker's home and also involved Walker's roommate, Michael Irvin. The victim's testimony matched injuries discovered during a medical exam the day after the alleged assault. Criminal charges were never filed, but Billups and Mercer settled a civil suit in 2000.
At some point this season, Billups will need to speak for himself on this. He can't hid behind Portland's PR team forever.