Stefon Diggs Celebrates Touchdown By Grabbing Beers From Fans, Smashing Them Together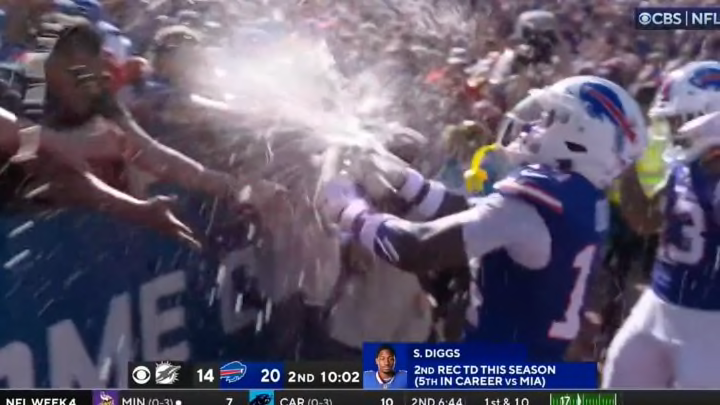 Stefon Diggs /
The Buffalo Bills-Miami Dolphins game this afternoon lived up to its billing in the first half as both offenses got going early, combining for 21 points in the first quarter. The Dolphins evened things up at 14-14 early in the second and it did not take long for the Bills to answer. With 10 minutes to go in the quarter Josh Allen hit Stefon Diggs for a TD to go up 21-14.
Diggs celebrated by sprinting over to the closest Bills Mafia fans, grabbing two beers, and then smashing them together in an homage to Stone Cold Steve Austin.
Obviously it's cool as hell to be tangentially involved in an NFL player's TD celebration but it still must be said: that's, like, $35 worth of beer. People sitting on the field probably aren't worried about that sort of thing but still!
Diggs should cover the next round. It's only fair.