Latest NBA Leads
Bill Simmons: Nets Willing to Trade James Harden For Ben Simmons as Long as They Get Seth Curry Too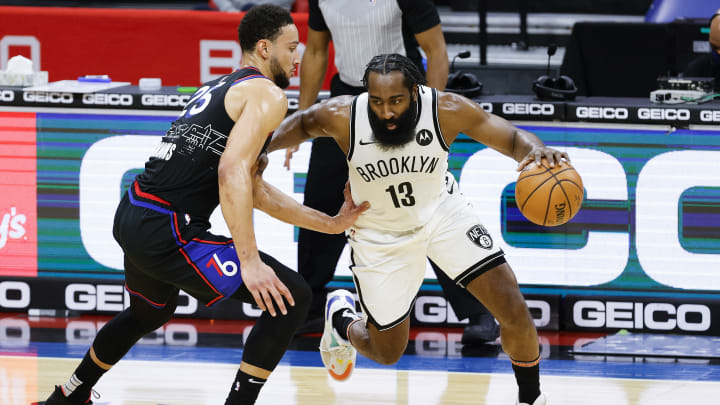 Ben Simmons and James Harden / Tim Nwachukwu/GettyImages
The NBA trade deadline is on February 10 and this week will be chock-full of rumors both substantial and otherwise about what moves may or may not be on the horizon. The most prominent names featured in those rumors will likely be James Harden and Ben Simmons. It has been common knowledge for some time that Daryl Morey's ideal scenario would be trading Simmons for Harden, but only this weekend did we hear that the Brooklyn Nets could be open to discussing such a deal, as reported by Shams Charania.
Bill Simmons got into the game in today's episode of The Bill Simmons Podcast and said he's hearing that the Nets would be willing to ship Harden out for Simmons, but only if they got Seth Curry as part of the deal. At the 5:50 mark:
Here's what I heard... that Brooklyn is open to [a Harden for Simmons trade], but Curry has to be in the deal. And you can aggregate away, I don't care. Brooklyn is looking at this year because they have Durant, Durant we assume is going to be pretty healthy soon and the East is wide open and they've got a chance to win. For them, the trade that makes sense is Simmons and Curry for Harden. That's what I heard.
Simmons and Curry for Harden is certainly an enticing deal. Simmons fixes a good chunk of the Nets' defensive issues while giving them a younger talent to possibly build around after the Durant-Kyrie days come to an end. Curry provides the shooting that Brooklyn has been missing due to the extended absence of Joe Harris and a touch more playmaking. If the Nets wanted to give up on Harden this early, Simmons and Curry is definitely the best return they can get in pursuit of winning a title this season.
All that said, the Nets have gone to work over the last few days in pushing back against these rumors. Steve Nash told reporters outright on Sunday the team has no intention of trading Harden. On Monday morning, ESPN published a report from Adrian Wojnarowski and Ramona Shelburne detailing how Morey asked Nets GM Sean Marks about Harden four months ago and was met with a one-word denial, which ESPN reports is the only interaction the two have had about a possible trade.
Looking at the resumes of the trade candidates in question, it would be nuts for the Nets to trade Harden right now even if he does intend to walk away in free agency and leave Brooklyn with nothing for their troubles. The Nets have lost eight straight games, yes, but have been without Durant for weeks and the level he was playing at pre-injury gives great confidence that he'll fix most of the issues currently facing the team when he returns. Trading him would be giving up on this iteration of Brooklyn's Big 3, and it's hard to justify giving up on that collection of talent when they have rarely all played at the same time for various reasons.
Despite the noise, that's why it's hard to envision a Harden trade this week. He's only been in Brooklyn for a year. If the Nets roll into the playoffs with everybody healthy, they have as good a shot as anybody to win the East and compete for a title. That's what they brought Harden, Durant, and Irving to town for. The Nets will not give up on that dream prematurely, for better or for worse.