Bill O'Brien is Coaching For His Job in 2020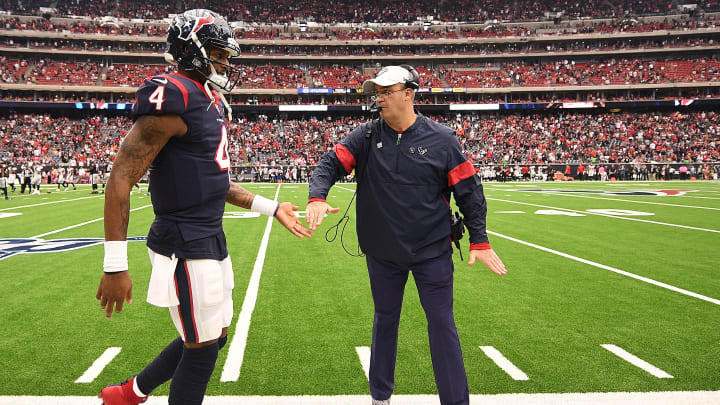 Bill O'Brien and Deshaun Watson / Mark Brown/Getty Images
The 2020 NFL season is finally here. The Houston Texans face the Kansas City Chiefs on Thursday evening in front of a small crowd of Chiefs fans with many millions more tuning in across the country. Kansas City is kicking off their title defense. Houston looks to avenge last season's playoff loss at the hands of Patrick Mahomes and his cohorts.
These two teams are in similar places when looking at the big picture. Both signed their young, superstar quarterbacks to big extensions this offseason and will be building around them for the next five years at least. These two quarterbacks are good enough that both squads have championship hopes. But while the Chiefs are perched on the edge of a potential dynasty, the Texans have a lot to prove in 2020. Specifically, Bill O'Brien, who needs to show fans and his bosses that the various, um, puzzling personnel moves he's made over the last two seasons will result in wins. Otherwise, he'll be out of a job in eight months.
It will eventually be lost to the winds of time, but the Texans did, in fact, hold a 24-point lead over the eventual 2019 Super Bowl champions at Arrowhead Stadium. They, like many others, eventually fell to the barrage of points Mahomes put up with his ridiculous array of weapons. The fact remains that O'Brien's squad was spotted 24 points and lost a game that would have put them in the AFC Championship Game for the first time in franchise history.
O'Brien responded by trading the team's leading receiver to the Arizona Cardinals in what appeared to be a mostly financial decision. DeAndre Hopkins wanted to be paid like no other receiver had been paid before, and got the contract he wanted from his new team that makes him the highest-paid non-quarterback in the NFL. Houston got David Johnson and a fourth-round pick in return for a player who had caught 100 passes from Watson in each of the last two seasons. Later that offseason they turned around and traded for Brandin Cooks to offset the loss of Hopkins.
Those are huge moves made by O'Brien, who has doubled as head coach and GM for the last two years. Cooks is a good player but not a top-five receiver like Hopkins and Johnson's best days appear to be far behind him. In making these pivotal decisions, O'Brien is placing a lot of faith in both Watson's ability to do more with less and his own coaching abilities. The Hopkins trade, in particular, is a loud, Belichickian declaration that the Texans are greater than the sum of their parts.
It's a big bet to make from a coach who wasn't able to do much of anything without a star quarterback and hasn't managed to do much even with that star quarterback. The Texans lost in the Wild Card round in Watson's first postseason appearance and then in the Divisional Round last year. The bare minimum expectations are a playoff berth for this season-- but with an offense without an elite weapon like Hopkins and a tougher path to a division title, it won't be easy to get even that far.
The Indianapolis Colts brought in Philip Rivers to boost a playoff-worthy roster that suffered from poor quarterback play down the stretch to hand Houston the AFC South title. The Tennessee Titans brought back most of the team that got all the way to the AFCCG in 2019. The Chiefs are running it back with just about everybody who won a ring last year. The Baltimore Ravens are still around and starting the reigning MVP at quarterback. The New England Patriots are starting their own former MVP after Tom Brady's departure. The Buffalo Bills, who the Texans squeaked by in the Wild Card round to face the Chiefs, have reloaded for another postseason run.
The point is that the Texans do not have an easy path ahead of them for title contention. Such is life when you're in the same conference as Mahomes and Lamar Jackson. O'Brien put everything on the line by trading Hopkins, believing that his coaching and the other talent on the roster would compensate for his absence. And it very well could. But if O'Brien is wrong, the onus will be entirely on him for whatever failures the Texans suffer in 2020. He'll pay for it with his job if he is.