Disgusted Bill Belichick Throws Challenge Flag Like a Furious Toddler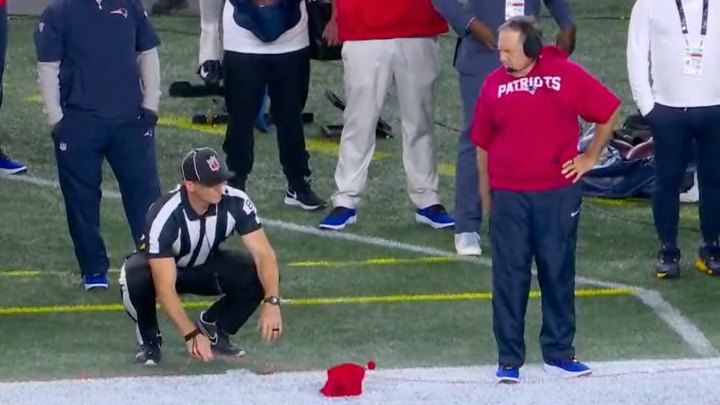 The New England Patriots' Week 2 matchup against the Miami Dolphins did not go great for the Pats. The Dolphins took an early lead and clearly looked like the better team for much of the game. Things really went off the rails for New England late in the third quarter when referees ruled Rhamondre Stevenson short of the line on a third down carry.
After carefully considering some advice from faceless coworkers on his headset, Bill Belichick decided to challenge the spot and he threw his red challenge flag in hilarious fashion. Belichick fished the flag out of his sock and held it for a moment before defiantly throwing it on the ground near an official who was trying to untangle the chain. Mike Tirico lost it.
It really was an incredible delivery from Belichick. Just absolutely disgusted with the entire situation, from the ruling on the field to the entire replay process in general. And that was all before the play was reviewed and the challenge was deemed unsuccessful. And then the Patriots went out and got the first down and Mac Jones threw an interception on the very next play.