Biggest Winners and Losers in NFL Announcer Musical Chairs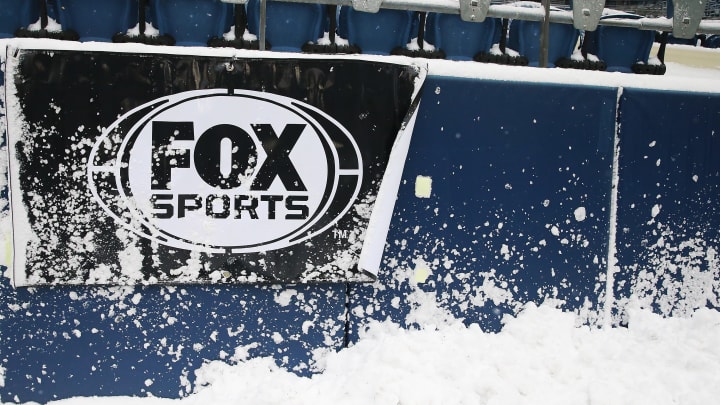 Fox Sports / Abbie Parr/GettyImages
The NFL offseason has been quite turbulent. The landscape of the league has changed as a half-dozen quarterbacks got traded over the last two months. The balance of power shifts evermore. Somehow, it has been even more tumultuous behind the camera as the league's biggest broadcasters have changed teams in the same timespan.
Never before have we seen so many big names in sports media leave their longtime positions for different pastures. We may never see anything like it ever again, either. Announcers are like good quarterbacks-- when teams find a good one, they lock them up on a high-paying contract for as long as possible. Places like Fox and ESPN do not shuffle through announcers in the same way teams might shuffle through starting running backs. Yet this offseason we saw turnover in the broadcasting industry nearly on par with the NFL.
With the dust settling from all the big moves, here are the biggest winners and losers from the NFL broadcasting game of announcer musical chairs.
Winners
ESPN
Duh. ESPN, seemingly out of nowhere, stole both Troy Aikman and Joe Buck from Fox in the span of one month. Nobody thought Aikman would leave, and there was not a soul on the planet who anticipated Buck leaving his longtime professional home. Now that Al Michaels and Cris Collinsworth have split up, ESPN boasts the most recognizable booth in broadcasting. It cost them a pretty penny, but the four-letter network's push to elevate Monday Night Football paid off big-time this offseason.
Announcers Getting Paid
This is the first instance in which we really feel the impact of Tony Romo's mega-deal with CBS. Aikman and Buck signed with ESPN for a combined $165 million for five years' worth of work. Romo's APY of $18 million is now the industry standard. Al Michaels is getting $10 million per year from Amazon despite being 77 years-old. For all the kids out there, it may be smart to think about going to broadcasting school instead of aiming to become a professional athlete. The money is nearly as good!
Amazon
Amazon really wanted Al Michaels as the centerpiece of their new full-time Thursday Night Football broadcasting booth. We've known that for six months now. It took longer than expected, but they got their man. Michaels will give great credibility to Amazon as they attempt to separate themselves from cable and network broadcasting. They also managed to land Kirk Herbstreit as the color commentator, which is an interesting risk-reward proposition. All in all, Amazon did a good job building up a broadcasting booth from the ground-up.
CBS
While every other major rightsholder underwent significant change this offseason, CBS has been sitting pretty with its No. 1 booth of Jim Nantz and Tony Romo fully intact. Those significant changes are benefitting CBS, too. With Buck and Aikman moving to Monday nights, CBS has a shot at dominating the 4 p.m. ET slots on NFL Sundays. Those ratings are still largely matchup-based, but there are millions of neutral viewers who may defect to CBS without Buck and Aikman on the call at Fox. Fans in general are more comfortable with familiarity, too, so the continuity CBS is enjoying this year will benefit them during the 2022 season.
Losers
Fox Sports
It is impossible for a company to lose both their top play-by-play man and color commentator in one offseason and come away as anything other than losers. It's especially true for Fox because they also lost their World Series voice. Joe Davis is very good and will likely succeed Buck there. The same goes for Kevin Burkhardt for their football games. But neither is as recognizable as Buck right now, and the immediate future is what matters most considering Fox has two of the next three Super Bowls. Matters are not helped by Aikman's ongoing media tour in which he describes how little effort Fox put into retaining him. In the long run, Fox has the roster depth to withstand the blow of losing their best and most famous personalities. But in the short term, it's a tough blow indeed.
Steve Levy and Louis Riddick
Levy and Riddick, along with Brian Griese, helped steady the Monday Night Football ship after the disastrous Jason Witten-Booger McFarland days. In 2021, MNF ratings were up 16 percent year-over-year and each game averaged 14.18 million viewers. Despite all that, they were replaced by Buck and Aikman when they suddenly became available. It's a tough draw for a quality pair of broadcasters. Levy and Riddick will still broadcast games for MNF this season (Griese left to join the 49ers), but getting bumped down the depth chart never feels good, even if it's for two titans of the NFL broadcast industry.
Al Michaels
Michaels is getting paid handsomely to continue working, which is exactly what he wanted. But helping Amazon get off the ground on Thursdays is an undeniable downgrade from dominating the airwaves on Sunday nights every week during the fall. Looking at how things unfolded, it didn't seem like Amazon was his first choice, either. The deal was at "the one yard-line" for months until it finally got done after all the other pieces settled on the board. Michaels asked Fox if they wanted to bring him in to replace Buck and the network declined. There were rumors abound that he really wanted to work with Aikman and he didn't end up getting to do that. Michaels' endgame was realized but it wasn't the smoothest transition, nor is his new home perfect.