Woman Projectile Vomiting at Bengals Game is the Star of Week 1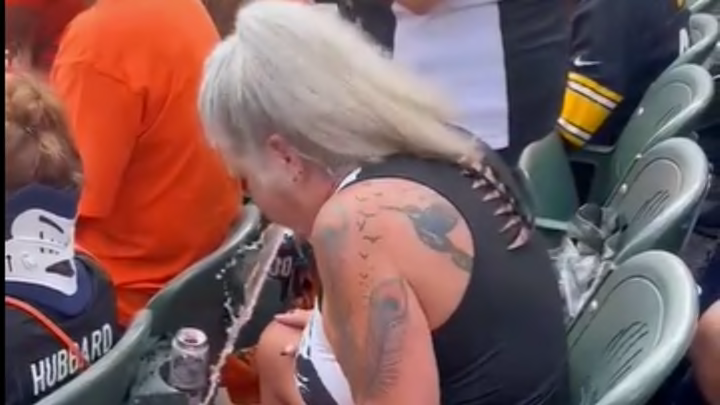 Week 1 of the NFL season is in the books and it was a doozy. There were shocks, surprises, ups and downs and a number of new stars emerged. None bigger than a woman in Cincinnati who was having... digestive issues.
Yes, on Sunday during the Bengals' overtime loss to the Pittsburgh Steelers, one dedicated fan refused to leave her seat. Instead, she stayed put as she repeatedly threw up in front of her seat ... and occasionally on the girl in a neck brace in front of her.
Check this out:
This is a typical response to eating Skyline Chili, so we really can't blame her. Or maybe she was just reacting to the performance of the kickers from this game. If so, totally justified.
I'm going to go out on a limb here and guess she's had a few adult beverages. The fact that she basically resets and looks fine after letting contents of her stomach go only for it to hit again, is the most fascinating part of this video. She's clearly a pro who has been here before and is doing the, "Act normal, maybe no one will notice" thing. Meanwhile the puddle at her feet has nearly surpassed Brookeville Lake in size.
Truly a 10/10 performance. Masterful.