Latest NBA Leads
Ben Simmons Likes Skip Bayless Tweet Taking Shot at James Harden Trade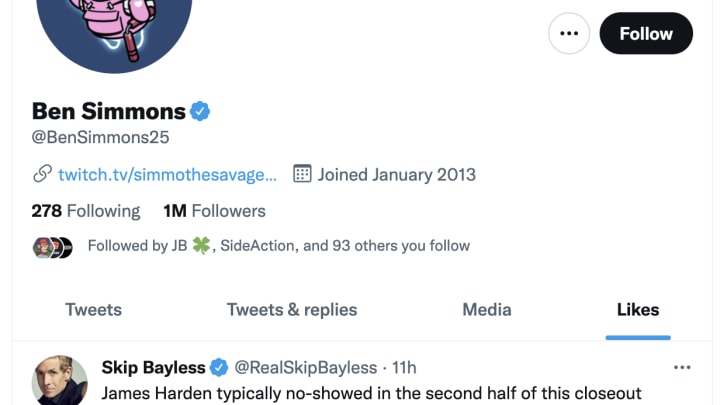 Ben Simmons has remained mostly silent since he was traded from the Philadelphia 76ers to the Brooklyn Nets in exchange for James Harden and some other assets earlier this season. But the maligned star made his true feelings abundantly clear on Twitter after the 76ers were eliminated from the playoffs on Thursday night. Simmons liked a tweet sent by Skip Bayless that ripped Harden's performance and supported Simmons as the better asset long-term.
A like is not always an endorsement, but in this case, given all the controversy surrounding this trade and Simmons' ire toward the 76ers, I'd say it is.
Harden was terrible in the second half of the 76ers Game 6 loss to the Heat, taking only two shots and missing both. It was reminiscent of Simmons' meltdown during the76ers playoff elimination last year. In fact, it was worse, as TBL's Stephen Douglas wrote about last night.
Time will tell who won or lost the trade, but it's clear Simmons believes the 76ers lost and he will prove it to them in due course. Still, it is weird seeing an NBA player agree with Bayless. Usually, they hate him. Another example of how different Simmons is.