Ben Roethlisberger, Jerome Bettis Accuse Patriots of Cheating in 2004 AFC Championship Game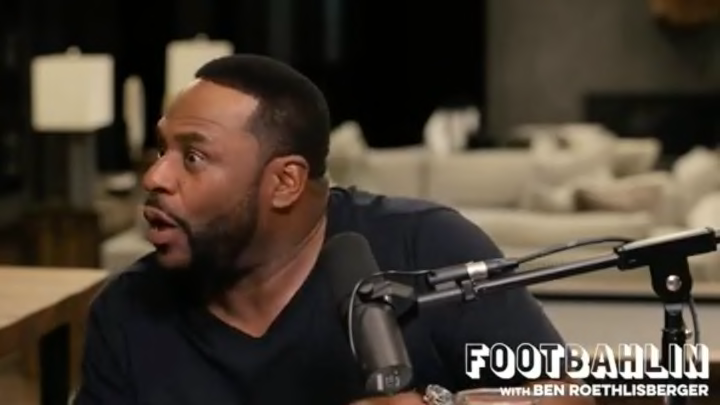 Jerome Bettis /
Ben Roethlisberger, like many former athletes, decided to get into the podcast game after he retired two years back. The longtime Pittsburgh Steelers quarterback launched Footbahlin With Ben Roethlisberger last year. Each episode features a different guest and discussion is split between football and reviewing craft beers. Yesterday's episode brought in fellow former Steeler Jerome Bettis, AKA The Bus.
Over the course of the hour-and-a-half conversation, Bettis and Roethlisberger ended up talking about the 2004 AFC Championship Game. They played the New England Patriots and a young Tom Brady's team won, 41-27. While discussing the game the pair of former teammates accused the Patriots of cheating and Bettis gave one very specific example to prove he was right. The short version is that Bettis is almost certain New England stole signs and stopped Pittsburgh on a big fourth-and-one because they recognized the hand signal the offensive line coach gave to his players.
Not that it matters very much but Bettis also fumbled on that fourth-and-one. It may seem ridiculous to zero in on one play in a 14-point loss as a turning point but at the time the Steelers were down 3-0. Momentun swung big-time and certainly set a tone for the rest of the day for Pittsburgh.
In terms of whether or not the Patriots cheated-- they almost certainly did. This is three years before SpyGate. Bill Belichick definitely had video stored somewhere of the Steelers' sideline and studied it so that he would know the hand motion Bettis mentions. Classic New England.
It is, however, rather amusing that they're complaining about the other team stealing signs during a football game. This might've been 20 years ago but it's not like the Steelers didn't have headsets. It isn't baseball pre-PitchCom where they weren't allowed to communicate with anything other than Stone Age methods. If they didn't want their signs to get stolen maybe they should have not used hand signals from the sideline for a crucial play.
The easiest way to avoid all this, of course, would have been to change the play during the timeout. Even if they did not suspect the Pats were stealing signs it's just smart football practice to not give the defense the exact same look before and after a timeout.
The Patriots probably did cheat but the Steelers didn't do much to help themselves.