Bears Get Screwed By Missed Obvious Pass Interference in Final Moments vs. Dolphins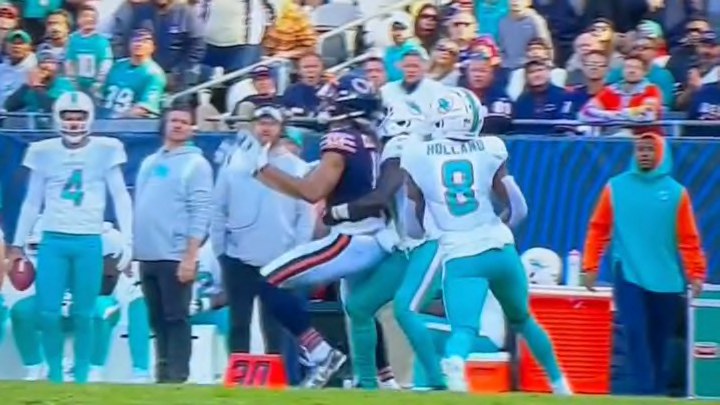 Chase Claypool /
The Chicago Bears found life halfway through the year and are now something resembling a good team. They proved it yet again today against the Miami Dolphins, hanging with the high-octane Tua Tagovailoa offense all day. But they still needed a final drive to try to steal a win.
The Bears were down 35-32 with the ball and less than two minutes to go. Justin Fields tossed up a deep ball to Chase Claypool on third down. The pass fell incomplete but Claypool got absolutely mugged and everyone in Chicago was screaming for a penalty.
They did not get it. An awful missed call that completely changed the outcome of the game.
Now that is what we in the business call getting hosed. We may not see a more obvious PI penalty this week and the refs missed it. There is something to be said about letting everyone play with the game on the line but this was too blatant to be ignored. A play that should have set up the Bears for a field goal at worst ended up an incompletion and the Bears turned the ball over on downs one play later.
A tough blow for Fields and his team.