Baseball Can Never Die When It's So Alive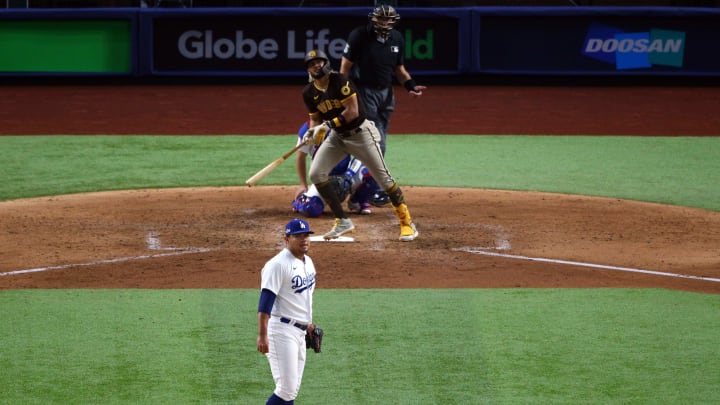 Ronald Martinez/Getty Images
A 21-year-old shortstop turning around a 99 mph seed from a 22-year-old fireballer and sending it 407 feet away from home plate. The reigning MVP, who until last year had played a majority of his games at first base, racing back to the wall. The pregnant pause of certain uncertainty hanging in the air as the world waited to which dugout would erupt in joy and which would have momentary hope erased.
An exuberant display of bliss — or perhaps momentary insanity — from a pitcher bailed out by a teammate. Understandable frustration on the other side. A war of words. A raising of tensions. An eruption of emotions with opaque justifications. An ensuing debate over who is in the right and who is in the wrong.
If you could bottle up the sequence that played out in the top of the seventh inning during last night's Padres-Dodgers game and sell it, the FDA would immediately step in to regulate because it's too damn powerful for everyday use.
Fernando Tatis Jr, , Brusdar Graterol, and Cody Bellinger combined for one of the most memorable plays in recent postseason history. And they highlighted the secret beauty of baseball. They were privy to what was happening a moment before the rest of the world. They held that knowledge, as all players do, as a precious commodity.
Tatis Jr. knew right away that he got most of it, perhaps not enough of it to carry over the centerfield fence and give San Diego a lead. Graterol knew he was in trouble and that his agency ended the moment he grooved his pitch. That his fate was out of his hands now, and in the gloved hand of Bellinger, who held the most heart-racing secret of all.
He and only he knew — for seconds that surely felt like eternity — if he had a chance to catch it. Or if his efforts, though dramatic for the rest of the world, would be wholly unfruitful. And yes, I'm waxing hopefully poetic about baseball, a sport in desperate need of this syrupy propaganda. You can't make me feel guilty about it.
Because nothing in sports compares to the drama of an outfielder scaling the wall in a pivotal situation where a few inches will decide the game. Your mileage will vary. But the intense rush standing in such stark contrast to an otherwise slow-moving, intellectual game is immediately euphoric.
And to hold the secret is to feel a superpower. To know, like Bellinger, that you're about to do something or come frustratingly close to doing something legendary, a unique feeling that should be shared. A religion in desperate need of evangelism. If the common fan or kid thinking of playing the game knew what that felt like, a secondary reason to make the national pastime king again would be unnecessary.
It is just the best damn thing in the world to have the ball hit to you when it matters. Or step in the box when failure isn't an option. The rush is insane and both wholly internal for all to see.
Another secret no one ever talks about that was on full display in the aftermath of the F8? How getting into it with the opposing team is not only an intrinsic part of the experience, but one of the most enjoyable elements. Talking trash, feeling rage, and using it is fuel is fun as hell. As long as the intensity stops short of dangerous beanballs and cleats-up slides, its added-value is immensely satisfying.
In the wake of immortal play and a magical moment in time, the easy thing for casual fans or disinterest observers to do is lament the Unwritten Rules. But what these people miss is that they are essential. That interpersonal conflict is as American as apple pie and, well, baseball itself.
Think of it this way. Baseball was invented as a means to pass time with friend and foe alike. It is, at its very core, a constant conversation and push and pull that takes place without time constraints. Poetic writers have broken their backs to paint it as an allegory for life. Cliches become cliches because of their underlying truth.
Progress does not come without pushback. Teams are in an eternal back and forth over the proper way to play the game. There is no singular true answer. For 150 years on diamonds across the globe, people have come together. Arguments and anger have always been there.
A pessimist would say it's because people are not capable of seeing eye-to-eye uniformly, even on the small stuff. An optimist would say opposing teams are working it out in real-time, ultimately always finding a place to coexist in the same space despite divergent goals.
Like they say, baseball lays it on pretty thick in the life-overlap department.
Whether Tatis Jr.s drive losing momentum and landing in Bellinger's searching leather brought you joy, heartache or indifference, baseball was so damn alive last night for a few minutes. It reminds us that that life is always there, just not as overt.
For most of my life there have been dour conversations about the sport being on life support. How it's dying. But something so alive can never die. It will always have that heartbeat that makes the heart race.
What a joy to realize and embrace, if only a few times a year.